HOME > Establishment of 1955 System : Outline
Outline


YOSHIDA Shigeru and HATOYAMA Ichiro. From "Mainichi Gurafu no.186"
Ahead of the signing of the San Francisco Peace Treaty in September 1951 (Showa 26), the purge of "undesirables" from public office, including influential political figures like HATOYAMA Ichiro, was lifted. Political maneuvers to bring together anti-YOSHIDA forces gained momentum, accelerating moves toward political realignment. Public support for the YOSHIDA administration declined due to repeated dissolutions of the House of Representatives, as well as the Shipbuilding Scandal of 1954 (Showa 29). Adding to the plight of the YOSHIDA administration was the formation of the Japan Democratic Party in November 1954 (Showa 29), which was launched as a new conservative party to counter the YOSHIDA administration. Leading the new party as President was HATOYAMA Ichiro, whose Cabinet was launched after the YOSHIDA Cabinet resigned en masse the following month.
Historical materials and Description
Platform of Japan Reform Party, declaration, release of policy guidelines, and others
Letter from YOSHIDA Shigeru to HAYASHI Joji and MASUTANI Shuji
Letter from HATOYAMA Ichiro to YOSHIDA Shigeru
Statement declaring separation from the Liberal Party
Itinerary of election campaign for April 1953 general election
Preparatory meeting for launching new party
Senior officials of committee for launching new party
Draft platform
Draft declaration, resolution and guideline for new party's organizational structure (draft)
Party rules and codes for Japan Democratic Party (draft)
Policy guideline (draft)
Report by new party-naming committee
Declaration for inaugurating Japan Democratic Party, party platform, policy guideline, party rules and codes
Suggestion to Prime Minister (at Cabinet meeting)


Meeting to unify Japan Socialist Party. From "Me de Miru Gikaiseiji Hyakunenshi"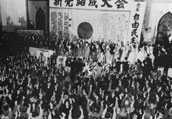 Meeting to inaugurate Liberal Democratic Party. From "Showa Nimannichi no Zenkiroku vol.10"
In the general election held in February 1955 (Showa 30), the HATOYAMA Cabinet's ruling Japan Democratic Party failed to secure a majority. Meanwhile, moves to unify the Japan Socialist Party gathered impetus. The party had been divided into rightist and leftist factions due to differences over issues related to the San Francisco Peace Treaty. Under these circumstances, conservative forces stepped up efforts to join forces while the Japan Socialist Party was integrated in October 1955 (Showa 30). Capping Japan's political realignment moves in 1955 (Showa 30) was the formation of the Liberal Democratic Party following a merger in November between the Japan Democratic Party and the Liberal Party. The so-called 1955 system, in which two major parties confronted each other, was established in that year.
Historical materials and Description
Paper declaring unification of two Japan Socialist Party factions, read out at the party's meeting
Party platform of Japan Socialist Party, party policies, and party guideline
Diary from the end of March 1955 to September 15, 1955
Draft agenda at the meeting for launching new party
Letter from YOSHIDA Shigeru to HAYASHI Joji and IKEDA Hayato
Memoranda related to Japan-Soviet negotiations
Letter from YOSHIDA Shigeru to HAYASHI Joji
Autographs for campaign speech

In 1960 (Showa 35), when the Cabinet was led by Prime Minister KISHI Nobusuke, the ruling and opposition parties were sharply divided over the proposed revision to the Japan-U.S. Security Treaty, throwing parliamentary proceedings into confusion. Outside the Diet, strong opposition was being mounted by activists against the proposal, an unprecedented movement in Japan's history. On 19 June, the bill for the revised treaty was automatically enacted. The following month, the KISHI Cabinet resigned en masse, followed by the inauguration of the Cabinet of Prime Minister IKEDA Hayato. Prime Minister IKEDA proposed "tolerance and perseverance" as his government's policy and adopted an economy-oriented policy aimed at promoting significant growth.
Historical materials and Description
Paper listing demands on Diet proceedings
Greeting letter following visit to P.R. China
Notebook New Japan-U.S. Security Treaty (1)
Autograph for question and answer at the House of Representatives' special committee on the Japan-U.S. Security Treaty (1)
Diary by House of Representatives Secretary General
Letter from EISENHOWER to KISHI Nobusuke
Speech autograph in which dissolution of the Diet was demanded
Comments that Japan Socialist Party Chairman ASANUMA made in Osaka
Manuscript of Prime Minister IKEDA's keynote speech (economic portion)