HOME > Establishment of 1955 System > a. From the YOSHIDA Cabinet to the HATOYAMA Cabinet > Return of HATOYAMA Ichiro to politics

6-1 Return of HATOYAMA Ichiro to politics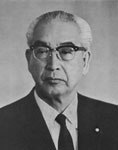 ISHII Mitsujiro. From "Kaiso Hachiju Hachinen"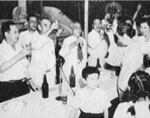 Celebratory drink at residence of HATOYAMA after his purge of undesirables from public office was lifted. From "Showa Nimannichi no Zenkiroku vol.9"
On 11 June 1951 (Showa 26), just ahead of Japan's regaining independence, seven politicians -- ANDO Masazumi, MIKI Bukichi, ISHI Mitsujiro, OKUBO Tomejiro, IWABUCHI Tatsuo and YAMASHITA Taro -- gathered at the residence of HATOYAMA Ichiro in Otowa, Bunkyo Ward, Tokyo. The seven intensely discussed whether they should rejoin the Liberal Party led by YOSHIDA Shigeru, given the prospect that the purge of undesirables from public office would be lifted for HATOYAMA in the near future. But around the same time, HATOYAMA came down with intracranial hemorrhage, forcing him to stay in bed for recuperation. It was September of the following year when HATOYAMA returned to politics. In that month, he appeared in public for a general election.
Related to HATOYAMA, ISHII left Asahi Shimbun newspaper after the end of World War II and joined the Japan Liberal Party. In January 1947 (Showa 22), he served as Commerce and Industry Minister under the first administration of Prime Minister YOSHIDA Shigeru. But later in the year, he was purged from public office as he was designated as "an undesirable."
The purge on him was lifted in 1950 (Showa 25) and he took the post of Transport Minister in 1952 (Showa 27) under the fourth administration of YOSHIDA. ISHII's diary shows that he was taking great pains to arrange a reconciliation between YOSHIDA and HATOYAMA.
New diary, 1950~1952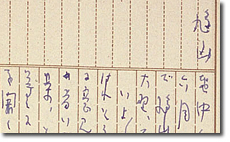 11 June 1951 (Showa 26)
Papers of ISHII Mitsujiro, #31
National Diet Library