HOME > Establishment of 1955 System > c. Era before and after struggle over Japan-U.S. Security Treaty > KISHI Cabinet and Police Official Duties Execution Act

6-10 KISHI Cabinet and Police Official Duties Execution Act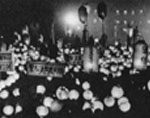 Demonstration being staged against bill to revise Police Official Duties Execution Act. From "Gurafikku Kara Showashi vol.11"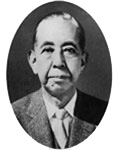 KISHI Nobusuke. From "Me de Miru Gikaiseiji Hyakunenshi"
In February 1957 (Showa 32), the ISHIBASHI Cabinet resigned en masse just two months after it was inaugurated, because ISHIBASHI fell ill. Following the resignation of the ISHIBASHI Cabinet, KISHI Nobusuke formed his Cabinet. In September 1958 (Showa 33), an extraordinary Diet session was convened under the second KISHI Cabinet. But confrontation intensified between the ruling and opposition parties over the bill to revise the Police Official Duties Execution Act. Given the prospect that the bill's enactment by the end of the Diet session would prove difficult, the Liberal Democratic Party forcibly extended the duration of the session.
The opposition Japan Socialist Party asked SUZUKI Takao, Secretary General of the House of Representatives, to judge the ruling party's decision to extend the session invalid, while its members continued to refuse to attend the Diet session. Some lawmakers even within the Liberal Democratic Party called for the scrapping of the bill to revise the Police Official Duties Execution Act. Leaders of the Liberal Democratic Party and the Japan Socialist Party met to deal with the situation and agreed to let the bill die following the end of the session.
Paper listing demands on Diet proceedings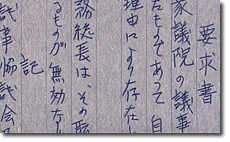 4 November 1958 (Showa 33)
Papers of SUZUKI Takao, #59-2
National Diet Library