HOME > Establishment of 1955 System > b. Establishment of 1955 System > Unification of Conservative Parties

6-7 Unification of Conservative Parties

Meeting to Inaugurate Liberal Democratic Party. From "Mainichi Gurafu no.290"
Prime Minister HATOYAMA dissolved the House of Representatives on 24 January 1955 (Showa 30). The Japan Democratic Party achieved a major coup in the general election held following the Diet dissolution and secured the largest number of seats in the House of Representatives; however, the party's strength in the Diet was far short of a majority. After the election, calls from the business community to unify the two conservative parties -- the Liberal Party and the Japan Democratic Party -- increased in the wake of increasing influence of leftist-oriented Socialists and the integration of two Japan Socialist Party factions. In April, MIKI Bukichi of the Japan Democratic Party officially threw his support behind the proposed unification of the two conservative parties.
In his diary, ASHIDA Hitoshi listed three factors as a major hindrance to the unification of the two parties -- HATOYAMA's attitude, the Liberal Party faction led by YOSHIDA, and reformist-oriented forces within the Japan Democratic Party.
At their meeting on 15 November, the Liberal Party and the Japan Democratic Party merged, creating the Liberal Democratic Party. Four members who would act as the new party's acting President were chosen at the meeting. In April of the following year, HATOYAMA Ichiro was elected President of the Liberal Democratic Party. On the day the Liberal Democratic Party was inaugurated, YOSHIDA Shigeru sent a letter to his aides HAYASHI Joji and IKEDA Hayato, vowing not to join the new party. (YOSHIDA eventually joined the Liberal Democratic Party on 1 February 1956 (Showa 31).)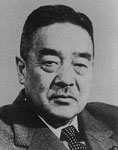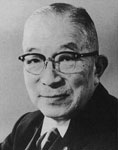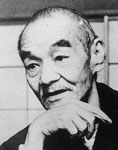 Four Committee members serving as Acting President: (from left) OGATA Taketora, ONO Banboku, HATOYAMA Ichiro and MIKI Bukichi. From "Jiyu Minshuto Gojunenshi vol.1"
Diary from the end of March 1955 to September 15, 1955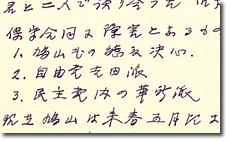 19 August 1955 (Showa 30)
Papers of ASHIDA Hitoshi, #25
National Diet Library (entrusted)
Draft agenda at the meeting for launching new party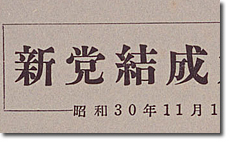 15 November 1955 (Showa 30)
Papers of ASHIDA Hitoshi, #415
National Diet Library (entrusted)
Letter from YOSHIDA Shigeru to HAYASHI Joji and IKEDA Hayato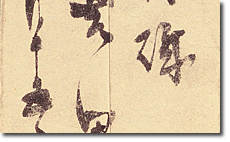 15 November 1955 (Showa 30)
Papers of HAYASHI Joji, #34-17
National Diet Library (entrusted)