HOME > Crisis in Constitutional Politics : Outline
Outline

The party cabinets swiftly lost their support because of the failure of their diplomatic and economic policies, as well as intensified party strife. After the outbreak of the Manchurian Incident in 1931 (Showa 6), the Cabinet found itself unable to check the independent actions of the military. Prime Minister INUKAI was assassinated in the 15 May Incident of 1932 (Showa 7), marking the end of the prewar era of party cabinets.
In an attempt to rebuild support, the political parties engaged in various reforms of the Diet. These efforts were undercut when criticisums were leveled at the "Emperor as an Organ of Government Theory", which had given a constitutional grounding for party cabinets. This made the revival of party based politics even less likely.
Historical materials and Description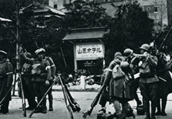 2.26 Incident on 1936. The Sanno Hotel at Akasaka occupied by insurgent troops. From "Zusetsu Kokumin no Rekishi. Kindai Nihon no 100nen Vol.17"
In contrast to the spiraling decline of Japan's political parties during the 1930s, the military increased its influence in the Government. The military's resurgence especially was symbolized by the 2.26 Incident of 1936 (Showa 11), and the restoration of the system of allowing only active military officers to serve as Army and Navy Ministers. The latter development was used as a means to guarantee a political voice for the military, allowing it to prevent the formation of the UGAKI Kazushige Cabinet, as it did not conform to the military's wishes. When the Sino-Japanese War broke out in 1937 (Showa 12), the Japanese Government found itself unable to control the military, and haplessly bogged down.
Historical materials and Description

The opportunity presented it see for Japan to form an alliance with Germany following the initial successes of that country after the outbreak of the Second World War in Europian in 1939 (Showa 14). Domestically, the movement led by KONOE Fumimaro to create a new political system grew in strength, and in 1940 (Showa 15), all political parties dissolved themselves and replaced by the Taisei Yokusankai (Imperial Rule Assistance Association). While some members of the Diet were critical of to the Yokusan (Imperial Assistance) system, the Diet till the war's end turned into an organization that cooperated in the pursuit of the war.
Historical materials and Description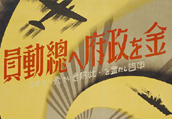 Money (gold) mobilized by the government (Poster Collection contributed by Okada Akio, #4-6)
National Mobilization Law was passed in 1938 (Showa 13) to deal with total war. The people were also enlisted to cooperate in the wartime framework, being organized through such systems as the Taisei Yokusankai and the Dai-Nippon Sangyo Hokokukai.
Meanwhile, the prolonged war caused an intense shortage of goods and materials in Japan, subjecting people's livelihoods to great hardships. As the end of the war approached, the main islands of Japan were also bombed heavily, causing tremendous damage.
Historical materials and Description