HOME > Initial Steps toward a Constitutional State : Outline
Outline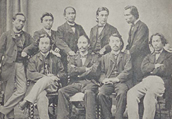 portrait of students dispatched to Holland. From "Bakumatsu Meika Shashinshu" ("NDL Digital Collections")
The conceptual underpinnings of the modern Japanese state were founded on the "public debate" arguments that spread throughout Japan triggered by the coming of Perry's "Black Ships" in 1853 (Ka'ei 6), and the opening of the country two years later. The Taisei Hokan (formal restoration of political authority to the Emperor) of 1867 (Keio 3) was carried out in the name of founding a system of government based on public opinion centered on the Imperial Court. In 1868 (Keio 4), the Charter Oath (Imperial Oath of Five Articles) was promulgated; its opening words stated that deliberative assemblies would be established and affairs of state would be decided by public opinion. According to the Seitai-sho (Constitution of 1868 or the June Constitution), the political organization of the new Meiji Government was to adopt the Dajokan (Council of State) system, with a view of the establishment of a parliamentary style structures. The broad outlines of the Dajokan system took shape in 1871 (Meiji 4). Though undergoing several administrative reforms, it persisted until the Cabinet system was established in 1885 (Meiji 18).
Historical materials and Description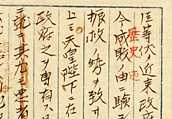 Draft of Petition for the Establishment of a Popularly elected Assembly (three versions)
The task of compiling a national constitution by the new Meiji Government was inevitably interrupted on account of complications in the political situation. ITAGAKI Taisuke and others who resigned from the Government in the 1873 (Meiji 6) Political Crisis formed the Aikokukoto (Public Party of Patriots). Then they submitted their "Petition for the Establishment of a Popularly Elected Assembly". At the Osaka Conference of 1875 (Meiji 8) they accepted a compromise with the Government that led in April of that year to an Imperial Rescript promising the establishment of the Genroin (Chamber of Elders) and a national constitution. Work proceeded during which time the Satsuma Rebellion occurred 1877 (Meiji 10). After the Rebellion was crushed, the Freedom and People's Rights Movement spread throughout Japan, with calls by the Tosa based Risshisha (Self Help Society) and other similar political societies that arose in various parts of the country calling for the establishment of a national assembly and the enactment of a constitution.
Historical materials and Description