HOME > How to Use Historical Records. - The Basics -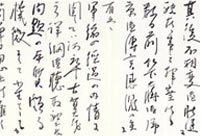 Letter of YAMANASHI Katsunoshin to SAITO Makoto


Quite a few historical records are on display in this exhibition. At first glance, some seem to have a "high threshold" of illegibility, having been written in the cursive style, or typically having been written, as with a letter, with only the recipient in mind

. Still, such historical records can sometimes serve as valuable clues that are tucked inside the "crevasses" of history.
This corner of the exhibition uses the example of a naval officer's correspondence (letter), with a concrete explanation of the basic steps taken to decipher it as a historical document, with the aim of getting you to enjoy such materials more deeply.

"Papers of SAITO Makoto, #1573-13" (Collection of Constitutional Governments Documents Collection, National Diet Library)

Who is the sender and who is the recipient?
The first step in using a letter as a historical document is to specify the sender, the recipient, and the date.
We determine from reading the end of the letter and the envelope that the sender was "YAMANASHI Katsunoshin" and the recipient was "SAITO Makoto."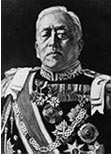 SAITO Makoto From "Rekidai Shushoto Shashin"

("Portraits of Modern Japanese Historical Figures")
SAITO Makoto among other positions, served as Governor General of Korea (1919-1927; 1929-1931), Prime Minister (1932-1934), and Lord Keeper of the Privy Seal (1935-1936).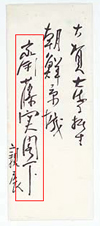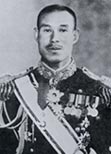 YAMANASHI Katsunoshin From "Yamanashi Katsunoshin Sensei Ihoroku"

YAMANASHI served as Vice Navy Minister, and had served commander-in-chief of the Sasebo and Kure Naval Bases.
When was it written?
At the end of the letter, only "May 1" has been written, without reference to the year, moreover the envelope lacked a postmark. That means we must search for additional clues, in the body od the letter. There two key words appeared: "Minister TAKARABE" and "disarmament."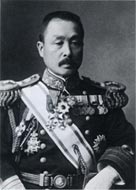 TAKARABE Takeshi From "Hamaguchi Naikaku"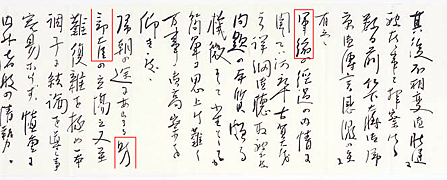 Ever since the establishment of the Cabinet system, there has only been one Cabinet minister with the surname of TAKARABE: TAKARABE Takeshi. He served twice as Navy Minister, these two tenures happened to overlap with the London Naval Conference on disarmament, at which he served as one of the Ministers Plenipotentiary. The Conference took place in 1930 (Showa 5), we can surmise that this letter was written on 1 May, 1930 (Showa 5).
Just to be certain, let us check the positions that the people associated with this letter held while TAKARABE was Navy Minister.
People Appearing in the Letter
2nd YAMAMOTO Gonnohyoe Cabinet


(September 1923 to January 1924)

HAMAGUCHI Osachi Cabinet


(July 1929 to April 1931)

HAMAGUCHI Osachi
Prime Minister (President, Rikken Minseito)
TAKARABE Takeshi
Navy Minister [1st tenure]
(May 1923 to January 1924)
Navy Minister [2nd tenure]
(July 1929 to Octover 1930)
YAMANASHI Katsunoshin
Navy Vice Minister (December 1928 to June 1930)
SAITO Makoto
Governor General of Korea (August 1929 to June 1931)
The steps we have taken make it clear that this document was a letter written by YAMANASHI Katsunoshin to SAITO Makoto in May 1, 1930 (Showa 5).