HOME > Establishment of 1955 System > b. Establishment of 1955 System > Japan-Soviet negotiations and the HATOYAMA Cabinet

6-8 Japan-Soviet negotiations and the HATOYAMA Cabinet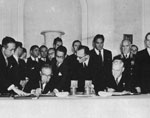 Japan-Soviet Joint Declaration being signed by Japanese Prime Minister HATOYAMA and Soviet Prime Minister BULGANIN. From "Showa Nimannichi no Zenkiroku vol.11"
The HATOYAMA Cabinet gave priority to the restoration of Japan-Soviet diplomatic relations. In July 1956 (Showa 31), Foreign Minister SHIGEMITSU Mamoru resumed negotiations with Soviet officials over the issue in Moscow. But the negotiations were suspended due to differences over the Soviet proposal on the Japan-Soviet territorial dispute. The former YOSHIDA faction within the Liberal Democratic Party opposed an early conclusion of the negotiations and expressed opposition to HATOYAMA's visit to Moscow.
Nevertheless, Japan's delegation led by HATOYAMA left for Moscow on 7 October, and on 19 October, Japan and the Soviet Union signed the Japanese-Soviet Joint Declaration, which marked the restoration of their diplomatic relations. The notes presented here are those written by NOMURA Kichisaburo, who was Chairman of the Liberal Democratic Party's caucus for House of Councillors members. The notes depict the discussion that HATOYAMA had at his residence over his proposed visit to the Soviet Union. A letter YOSHIDA Shigeru sent to HAYASHI Joji, meanwhile, indicates that YOSHIDA was adamant about blocking HATOYAMA's visit to Moscow even to the extent of having his faction members leave the Liberal Democratic Party.
Memoranda related to Japan-Soviet negotiations
3-12 September 1956 (Showa 31)
Papers of NOMURA Kichisaburo, #921
National Diet Library
Letter from YOSHIDA Shigeru to HAYASHI Joji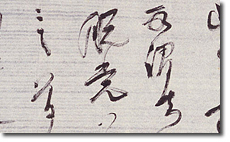 25 September 1956 (Showa 31)
Papers of HAYASHI Joji, #34-15
National Diet Library (entrusted)