HOME > Crisis in Constitutional Politics > a. End of Party Cabinets > Movements to Reform the Diet

4-3 Movements to Reform the Diet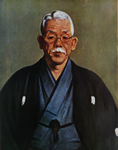 AKITA Kiyoshi (commemorative oil painting of House of Representative speaker, painted by KUMAOKA Yoshihiko) (September 1933 (Showa 8)) From "Akita Kiyoshi"
At the 59th Session of the Diet in 1931 (Showa 6), temporary Acting Prime Minister SHIDEHARA Kijuro made a slip about the Emperor that caused great furor and disorder within the Diet, with some members even resorting to fisticuffs. Furthermore, the political instability created by the Manchurian Incident later that year sowed additional distrust about the way Diet politics was being conducted. When the national-unity Cabinet led by SAITO Makoto was, in 1932 (Showa 7), Diet members were gripped with a strong sense of crisis, so all the political parties decided to work together toward reforming the House of Representatives.
Starting in June 1932 (Showa 7), under the leadership of Speaker AKITA Kiyoshi of the House of Representatives, the All-faction Committee for Diet Revitalization and Discipline conducted deliberations that resulted in the Diet Revitalization and Discipline Blueprint of 15 July. These were truly epoch making reform proposals, calling for an improvement in the dignity and conduct of the House of Representatives, an elevated status for the Speaker and Deputy Speaker of the House of Representatives, the enhancement of its functions and reinforcement of its authority through such measures as the establishment of permanent committees. Yet, despite the fact that the bill for Diet reform that emerged the Blueprint was submitted three times as a joint proposal by all the factions of the House of Representatives, it failed to become law, having been shelved at each instance by the House of Peers.
Meanwhile, the House of Peers made only relatively lukewarm stabs at reform during that period. Ever since the House of Peers reforms of the so-called Goken Sanpa Naikaku (Cabinet based on three pro-Constitution factions) during the final years of the Taisho era (early to mid-1920s), only sporadic efforts at reform were attempted, simply suggestions about reducing the number of titled Peers and introducing a system of vocational (functional) representation. In 1938 (Showa 13), the 1st KONOE Cabinet set up the Diet System Inquiry Commision, but that also failed to lead to any reforms being implemented in either House.
Diet Revitalization and Discipline Blueprint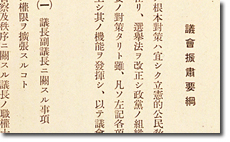 15 July 1932 (Showa 7)
Papers of OKI Misao, #7
National Diet Library