HOME > Crisis in Constitutional Politics > a. End of Party Cabinets > 5.15 Incident of 1932

4-2 5.15 Incident of 1932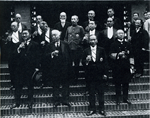 Prime Minister SAITO Minoru and cabinet ministers making a toast in the inner courtyard of the Prime Minister's Residence before the first cabinet meeting From "Showa Niman'nichi no Zen Kiroku. Vol.3"
On 15 May 1932 (Showa 7), Prime Minister INUKAI Tsuyoshi was assassinated by young Naval officers in what is now called the 5.15 Incident. The selection process for the person who would have to cope the crisis encountered rough waters.
On 19 May, Grand Chamberlain SUZUKI Kantaro relayed the Emperor's wishes about the makeup of the next Cabinet to the Genro (elder statesman) SAIONJI Kinmochi, who had come to Tokyo. For that purpose the document shown here is a written summary of the main points of that message, in which the Emperor expressed the need to select an upstanding man of good character, while absolutely rejecting someone with Fascist leanings. The Emperor added that it was of no concern to him whether it was a "cabinet of cooperation" or one by a single -party.
On 22 May, SAIONJI recommended to the Emperor that he appoint Navy Admiral SAITO Makoto as the next Prime Minister. SAITO put together a national unity Cabinet, composed mainly of bureaucrats, and leavened with the representatives of the two major political parties. Thereafter, Japan did not see a revival of fully party based cabinets until the postwar period.
Memorandum of SAIONJI Kinmochi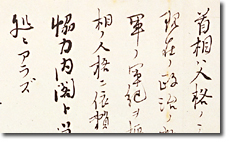 19 May 1932 (Showa 7)
Papers of HARADA Kumao, #18
National Diet Library