HOME > Crisis in Constitutional Politics > d. Wartime Japan > Life on the Home Front

4-18 Life on the Home Front

Local neighborhood associations fully mobilized to plant fields on Showa-dori street in Kanda and Nihonbashi Wards, Tokyo From "Jugo no Senka"
The "Air Defense Manual" shown here was a pamphlet distributed to all Japanese households at the outset of the Pacific War. Drawn up by various government ministries (Cabinet), the Planning Board (Kikakuin), and the Defense General Headquarters, it explained homes, families, neighborhood groups, schools and factories could prepare for air raids and to cope with the resulting fires.
The fan shown here was a souvenir from the Great Japan National Defense Women's Association, established in October 1932 (Showa 7). The Association grew out of the Osaka National Defense Women's Association, which was formed to give send offs to troops to Manchuria after the Incident, and to welcome them on their return. Its slogan was "National Defense Starts in the Kitchen," featuring a woman wearing a cook's apron, with a cord tying up the sleeves. Under the guidance of the military, the Great Japan National Defense Women's Association grew in size thanks to activities carried out mainly by housewives and working women, such as raising money for national defense, recycling discarded goods, and collecting other donations. By 1942 (Showa 17), when it was finally absorbed into the Great Japan Women's Association, the membership of the group had reached some 10 million.
Air Defense Manual
December 1941 (Showa 16)
Papers of ARAI Zentaro, #1871
National Diet Library
Folding Fan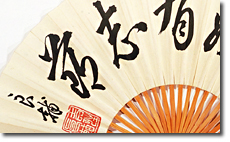 Constitutional Government Documents Collection, #1278
National Diet Library
Great Japan National Defense Women's Association, Kansai Headquarters Memento
"NDL Digital Collections"