HOME > Initial Steps toward a Constitutional State > a. Conceptions of the Form of Government circa the Meiji Restoration > Grand Council of State (Dajokan) System

1-4 Grand Council of State (Dajokan) System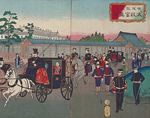 "Akasaka kari kokyo oyobi dajokan shinkei" Building in the rear center is the Dajokan. (Collection of the Waseda University Library)
The first governing structure of the new Meiji government was the so-called sanshoku (three posts) system of sosai (president), gijo (legislators) and san'yo (councilors), set up on January 11, 1868 (lunar December 17 of Keio 3). In June 1868 (lunar leap April of Keio 4), a bureaucratic reform took place based on the Seitaisho (June Constitution or, 1868 Constitution), after which a governmental system known as the Grand Council of State (Dajokan) was born. The Grand Council of State system underwent several reforms, including the personnel edict of August (lunar July) 1869 (Meiji 2) and the Grand Council of State personnel system launched in September (lunar July) 1871 (Meiji 4), and lasted until the establishment of a cabinet system in December 1885 (Meiji 18).
The documents above were prepared by the Department for the Study Government Systems of the Imperial Household Agency while the establishment of the cabinet system was being worked out. They later formed the original draft of the "History of Grand Council of State, Vol. 6, Development of the Personnel System" and "History of Grand Council of State, Vol. 8, History of the Sanshoku Personnel System" (National Archives of Japan).
Original Version, "History of Grand Council of State Personnel System"