HOME > Initial Steps toward a Constitutional State > b. Attempts at Constitutional Government > Satsuma Rebellion

1-11 Satsuma Rebellion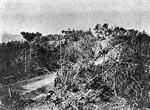 Tabaru Slope. From "Mezurashii Shashin"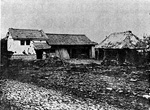 Dozo. From "Mezurashii Shashin"
Rebellions by the samurai, which had broken out sporadically since 1868 (Meiji 1), including the 1869-70 conflict between irregular military units and upper rank samurai commanders in the Choshu domain, gained steam with the collapse of the "conquer Korea debate". Armed uprisings erupted successively in the Chugoku Region (western Honshu) and Kyushu, with the protagonists arguing for going through with the conquest of Korea and restoring samurai privileges. In Kagoshima prefecture (formerly Satsuma domain), the samurai of the 'private-school faction' (referring to graduates of the private school set up by SAIGO Takamori and his disciples), organized by KIRINO Toshiaki, et al., joined forces with the Prefectural Governor OYAMA Tsunayoshi to advance their own policies. Tensions with the government mounted after members of the private-school faction raided an ammunitions depot in early 1877 (Meiji 10), and secret agents were dispatched by the government to Kagoshima to spy on them. SAIGO, who was then living in seclusion, had no choice but to rise to action after the private-school faction beseeched him to do so. He initiated a military advance the following month, on February 15, intending to march on Tokyo, because of "questions I intend to press on the government." SAIGO's army campaigned as far as Kumamoto and Miyazaki (both in Kyushu), but then returned to Kagoshima in September, where it holed up in Shiroyama. SAIGO's forces were crushed on September 24, 1877 (Meiji 10) in the face of a general attack by government forces. This was the end of the so-called Satsuma Rebellion.
This document is the report by OYAMA Iwao, who led the attack on SAIGO's army at Shiroyama. It contains an account of the battle, listing the number of cannons used, etc.
Report of the Artillery Attack Against (Saigo Forces) in Shiroyama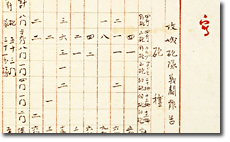 September 19-24, 1877 (Meiji 10)
Papers of OYAMA Iwao, #44-84
National Diet Library (entrusted)