Other facilities
Cafeteria and Coffee Shops
Food and beverage are available at the cafeteria (the 6th floor of the main building) and the coffee shops (the 3rd floor of the main building and the 1st floor of Annex). You may also eat or drink what you have brought with you in the specified area of the cafeteria.
Visitors are not allowed to take library materials into the cafeteria or the coffee shops. Please deposit library materials in a locker.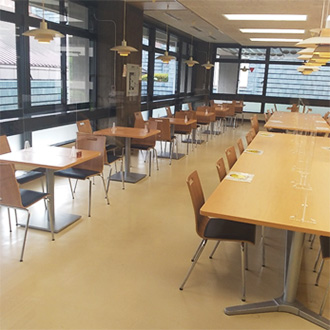 Coffee shop (Main Building 3F)
Shop
You can buy food, stationery and other daily goods at the shop (Main Building 6F).
Beverage containers are to be kept in transparent bags. Avoid putting library materials into any bag that contains drinks.
Drinking or eating, including gum or candy, in the reading area are strictly prohibited. Please eat or drink only in the specified area of the cafeteria.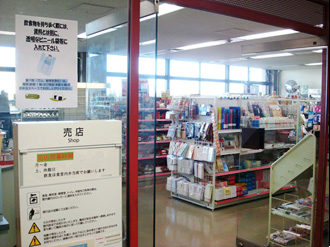 Free Wi-Fi service
Free Wi-Fi service is available in the library. Registration of an e-mail address or SNS account is required to use the service. For details, please refer to E-mail Authentication and Pre-Registration of the FREESPOT Association.
* Reading Room 2 is not available because use of equipment is banned in all seats.
ATM
There is an ATM in the Main building 3F, available during library hours.