HOME > Evolution of the Meiji State > d. Foreign Relations in the Meiji Era > Sino-Japanese War

2-23 Sino-Japanese War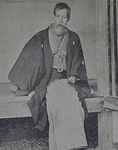 MUTSU in his later years (at his villa in Oiso) From "Mutsu Munemitsu"
The "Kenkenroku" is a detailed document depicting the process of diplomacy during the Sino-Japanese War, and was written by Foreign Minister MUTSU Munemitsu. Covering the period from the outset of the War until the ratification of the Sino-Japanese Peace Treaty on 8 May 1895 (Meiji 28), it is one of the best historical materials documenting Japanese diplomatic history and the history of the Sino-Japanese War. The phrase "kenken" means "serving the sovereign with a pained heart," indicating the intense desire to serve the Emperor.
The Kenken Yoroku Draft was one of the drafts for the Kenkenroku, and contains many notations, showing that it was repeatedly revised and polished.
Meanwhile, in his letter, HAYASHI Tadasu, Deputy Foreign Minister during the Sino-Japanese War, responds to a query made by Minister MUTSU concerning the sinking of the British transport ship, the Kosho-go during the Battle of the sea off Phung-do Island. It was first printed at the Ministry of Foreign Affairs, and published in 1896 (Meiji 29), but was kept confidential for a long time, and not released publicly until 1929 (Showa 4). The National Diet Library's collection contains both volumes of the draft.
Draft of Kenken Yoroku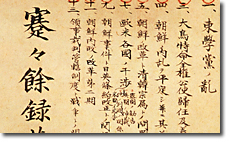 HAYASHI Tadasu's letter to MUTSU Munemitsu