HOME > Evolution of the Meiji State > d. Foreign Relations in the Meiji Era > The Hokushin Incident

2-24 The Hokushin Incident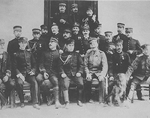 American, French, German, Italian, Japanese, Austrian military officers at the Peking International Club From "Hokushin Jihen Shashincho"
In 1900 (Meiji 33), the Boxer Rebellion spread to Peking (Beijing) and Tientsin (Tianjin), and the Ching (Qing) Government supported the Boxers. The great Powers moved to suppress the Rebellion, and Japan sent a large army in response to a request from Great Britain. In September 1901 (Meiji 34), the final protocol concerning the Hokushin Incident was signed, allowing foreign armies to station troops in the Peking (Beijing) legation district. The Russian Army, at the height of the Incident, occupied major sections of Manchuria under the pretext of protecting the East China Railways, and its failure to withdraw after the Incident ended was one of the factors causing the Russo-Japanese War.
This document is the section of KATSURA Taro's Autobiography describing the Incident, and describes in detail his perspective of that Incident from his position as Japan's Army Minister at the time. The volume with Japanese-style binding is a clean copy of an aural account made around 1902 (Meiji 35).
KATSURA Taro Autobiography, Volume Three (Section on the Hokushin Incident)
Section from 1900-01 (Meiji 33-34)
Papers of KATSURA Taro, #77-1
National Diet Library