HOME > Taisho Democracy > c. The Era of Party based Government > Great Kanto Earthquake of 1923

3-11 Great Kanto Earthquake of 1923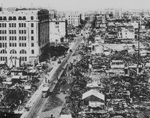 Nihonbashi Street in Tokyo after the Great Kanto Earthquake (circa 1923). From "Kanto Daishinsai Kinen"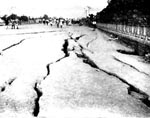 Earthquake fissures in the Uchibori ("Inner Moat") Hibiya Umitate ("Landfill") Road in Tokyo (also known as the "Marunouchi Victory Road"), circa 1923 (Collection of the National Science Museum)
At two minutes before noon on 1 September, a massive earthquake struck the southern Kanto region (centered on Tokyo and Yokohama). Besides the direct damage inflicted on houses and other buildings, many of which collapsed, fires broke out throughout residential areas in these two cities (as people were lighting stoves in preparation of lunch), causing catastrophic conflagrations in which many lost their lives.
In his diary, KURATOMI Yuzaburo, who served simultaneously as member of the Privy Council and Head of the Imperial Household Accounting Audit Department, gives a detailed witness account of the scene right after the tremor struck. He had been walking downhill from the Imperial Palace, where he worked, on his way home to lunch in Tango-cho in Akasaka ward (now Akasaka 4-chome), Tokyo.
Shortly after the earthquake hit, rumors spread that the Korean residents were on the verge of rioting, and as a result, many Koreans, Chinese, and even some Japanese were slaughtered. Socialists were arrested on the charge of having fanned the riot.
Diary of 1923
1 September 1923 (Taisho 12)
Papers of KURATOMI Yuzaburo, #5-8
National Diet Library