HOME > Taisho Democracy > c. The Era of Party based Government > Assassination of Prime Minister HARA

3-10 Assassination of Prime Minister HARA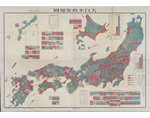 Great Japan Political Party Map (Imai Seiichi's collection deposited to the Yokohama Archives of History)

Washington Naval Disarmament Conference, 1921 (Taisho 10). From "Zuroku Nihon Gaiko Taikan"
In the evening of 4 November 1921 (Taisho 10), Prime Minister HARA Takashi, who had led the Seiyukai (Association of Friends of Constitutional Government) with unparalleled political skill, in organizing Japan's first "true party based cabinet" went to Tokyo Station, intending to board the 7:30 p.m. sleeper bound for Kyoto in order to attend the Seiyukai's Kinki Conference. At the time he was fatally stabbed by a railway switchman named NAKAOKA Kon'ichi, who was infuriated by what he saw as the narrow partisan interests of the Seiyukai. The assassination of the incumbent Prime Minister sent shock waves through the political world, since it was the first such incident after Japan had become constitutional government.
The selection process of HARA's successor as the leader of Seiyukai ran into problems, but ultimately TAKAHASHI Korekiyo was chosen as both Seiyukai President and Prime Minister, with the backing of Genro SAIONJI Kinmochi. In his policy address to the Imperial Diet, TAKAHASHI argued that he would continue the policies of the HARA Cabinet. Nonetheless, his Cabinet was destined for a short life, and the Seiyukai also fell apart.
Telegram from MATSUMOTO Gokichi to HIRATA Tosuke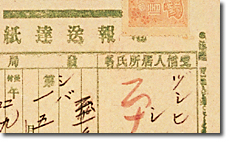 4 November 1921 (Taisho 10)
Papers of HIRATA Tosuke, Document #136-8
National Diet Library
Manuscript of Prime Minister's Inaugural Speech
21 January 1922 (Taisho 11)
Papers of TAKAHASHI Korekiyo, #125
National Diet Library