HOME > Taisho Democracy > c. The Era of Party based Government > 2nd Movement to Protect the Constitution

3-12 2nd Movement to Protect the Constitution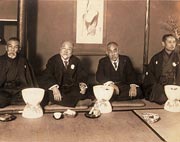 Photograph of INUKAI Tsuyoshi, TAKAHASHI Korekiyo, KATO Takaaki, and OZAKI Yukio. Constitutional Government Documents Collection, #1229
The 2nd YAMAMOTO Cabinet resigned en masse after the Toranomon Incident (the 23 December 1923 failed assassination attempt on Prince Regent Hirohito), after which President KIYOURA Keigo of the Privy Council was invited to form a Cabinet in January 1924 (Taisho 13). The events of that period are recorded in the handwritten notes of MIZUNO Rentaro, who entered the KIYOURA Cabinet as Home Minister.
Meanwhile, the so-called Pro-Constitution Three Factions, made up of the Kenseikai (Constitutional Government Association), Seiyukai (Association of Friends of Constitutional Government), and Kakushin Kurabu (Reform Club) opposed the KIYOURA Cabinet. It launched the 2nd Movement to Protect Constitutional Government and attacked the Cabinet.
In the general election held that May, the Pro-Constitution Three Factions won in a landslide, forcing the KIYOURA Cabinet to resign en masse on 7 June. As a result, the Pro-Constitution Three Faction Cabinet (Goken Sanpa Naikaku) was created, with KATO Takaaki, leader of the strongest party, the Kenseikai, assuming the Prime Minister's post. He was joined in the Cabinet by Seiyukai leader TAKAHASHI Korekiyo and Kakushin Club leader INUKAI Tsuyoshi. Thereafter, the era of party based cabinets continued for some eight years, until the INUKAI Cabinet collapsed on account of the 5.15 Incident (the 15 May 1932 assassination attempt on INUKAI by junior naval officers and army cadets).
Notes on the Establishment of the KIYOURA Cabinet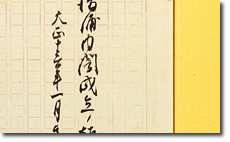 January 1924 (Taisho 13)
Papers of MIZUNO Rentaro, #53
National Diet Library (entrusted)
From "Notes on the Establishment of the KIYOURA Cabinet and Its Resignation, and the Developments Behind His Inauguration and Resignation of as Privy Councilor"