HOME > Taisho Democracy > c. The Era of Party based Government > Movement for Universal Manhood Suffrage

3-9 Movement for Universal Manhood Suffrage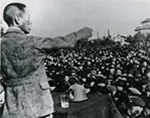 OZAKI Yukio calling for the immediate implementation of universal manhood suffrage, February 11, 1920 (Taisho 9). From "Mede Miru Gikai Seiji 100nenshi"
In the aftermath of the 1st Sino-Japanese War, the movement for universal manhood suffrage gained momentum with the formation of the League for Establishing Universal Manhood Suffrage (Futsu Senkyo Kisei Domeikai) in 1897 (Meiji 30). The Universal Manhood Suffrage Act was passed in the House of Representatives in the 27th Diet of 1911 (Meiji 44), failed to do so in the House of Peers. The movement, however, faced powerful opposition as it was linked with socialism, therefore stalled for a time. New life was breathed back into the movement with the Rice Riots of 1918 (Taisho 7), and the Paris Peace Conference the following year, with demonstrations in support of universal manhood suffrage held in Tokyo and the Kansai region (Kyoto/Osaka/Kobe).
The core of the movement was the Nationwide Universal Manhood Suffrage Federation (Zenkoku Fusen Rengokai), formed in January 1920 (Taisho 9). The movement enjoyed a broad upsurge in popularity, with the participation of more than 60 different groups, including people from the political parties as well as workers' groups, student groups, and journalists. A Resolution passed by the Federation is shown in the above.
Resolution of the Nationwide Universal Manhood Suffrage Federation (Zenkoku Fusen Rengokai)