HOME > Taisho Democracy > c. The Era of Party based Government > Commoner Prime Minister

3-8 Commoner Prime Minister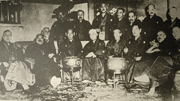 Prime Minister HARA and his cabinet ministers, Taisho period (1912-26) From "Hara Takashi Zenshu. Vol.2"
It became increasingly evident that the TERAUCHI Cabinet would have to resign because of the Prime Minister's health and the Rice Riots, so the selection of TERAUCHI's replacement became a pressing issue. The Genro YAMAGATA Aritomo, who wanted to avoid a party centered cabinet, considered making SAIONJI Prime Minister once again, but was repeatedly rebuffed on the ground of "health reasons". Realizing that SAIONJI was adamant in his refusal, YAMAGATA finally stopped persisting, and instead tapped HARA Takashi (HARA Kei), President of the Seiyukai (Association of Friends of Constitutional Government), to form a Cabinet.
YAMAGATA's words and deeds during this period are vividly recorded in MATSUMOTO Gokichi's Diary, who was serving as YAMAGATA's political secretary.
The HARA Cabinet, inaugurated on 29 September 1918 (Taisho 7), was wholly composed of Seiyukai members except for the Foreign, Navy, and Army Ministers, making it the first "true party cabinet". As HARA himself was Japan's first Prime Minister not to hold a peerage rank, he was nicknamed the Commoner Prime Minister. He was also the first Prime Minister to have held a seat in the House of Representatives.
Political Daily, Vol. One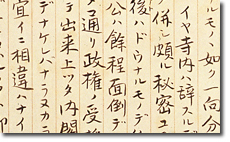 8-17 September 1918 (Taisho 7)
Papers of MATSUMOTO Gokichi, #38
National Diet Library