HOME > Evolution of the Meiji State > d. Foreign Relations in the Meiji Era > Anglo-Japanese Alliance

2-25 Anglo-Japanese Alliance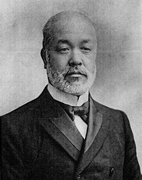 HAYASHI Tadasu, who rendered services in the creation of the (1st) Anglo-Japanese Alliance From "The secret memoirs of Count Tadasu Hayashi"
After the Sino-Japanese War, various alternatives were explored for the upcoming polices of Japan's diplomacy, including with Russia, an alliance with Great Britain, the taking of Manchuria, the absorption of Korea, and so forth. All these potential possibilities were intertwined in a complex fashion.
This document, believed to have been drawn up by ITO Hirobumi, gives us a glimpse into this situation. In the end, the (First) Anglo-Japanese Alliance was signed on 30 January 1902 (Meiji 35), and Japan engaged in the Russo-Japanese War under Great Britain's umbrella.
Entente with the Great Britain and Germany, and the Russo-Japanese Alliance