>Chapter 2: Signatures (1)

Chapter 2 Signatures (1)
Signatures indicate many different things. They can represent approval or stand as proof of authorship or ownership. Here is a collection of a variety of signatures from commemorative messages, dedications of deluxe editions, autograph collections, official documents, and portrait photography.
109 Nihonkoku Kempo (Kampo Gogai)[Irie Toshio Papers: 46]
This is a Special Edition of the Official Gazette, in which the Constitution of Japan was promulgated on November 3, 1946. It is presumed that IRIE Toshio, who was Director-General of the Bureau of Legislation at the time, collected these signatures of important people to commemorate promulgation of the Constitution.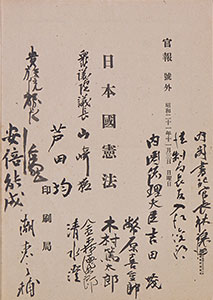 People who signed and their position at the time
YOSHIDA Shigeru, Prime Minister and Minister of Foreign Affairs
KANAMORI Tokujiro, Minister of State (in charge of Constitution)*, later, First Librarian of the National Diet Library
ASHIDA Hitoshi, Chairman of the Committee on the Bill for Revision of the Imperial Constitution in the House of Representatives
IRIE Toshio, Director General of the Bureau of Legislation
SHIDEHARA Kijuro, Minister of State and President of Demobilization Agency as well as former Prime Minister
HAYASHI Joji, Chief Secretary of the Cabinet
KIMURA Tokutaro, Minister of Justice
ABE Yoshishige, Chairman of the House of Peer's Special Committee on Revision of the Imperial Constitution
YAMAZAKI Takeshi, Speaker of the House of Representatives
TOKUGAWA Iemasa, President of the House of Peers
SHIMIZU Toru, President of the Privy Council
USHIO Shigenosuke, Vice-chairman of the Privy Council