>4: Confucian advisers of Mito Domain

Chapter 1 The statesmen and their entourageConfucian advisers of Mito Domain
AOYAMA Nobuyuki, 1776-1843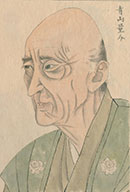 Nobuyuki was a feudal retainer and a Confucian scholar who served the Mito Domain in the late Edo period, known for his contribution in promoting the compilation of Dainihon shi as the director of Shokokan (a historiographic institute for Japanese history run by and located in Mito Domain). He also served as the head professor at Kodokan (Mito Domain school). Being the teacher for Tokugawa Nariaki, Nobuyuki was well respected for his sincere personality, although his contentiousness quite often gave Nariaki trouble.
12 Aoyama Nobuyuki shokan (from Aoyama Nobuyuki, Nobumitsu shokan), the 29th day, month unknown [1839][WA25-34]
A letter sent from Nobuyuki to his first son Nobumitsu, informing him the details of bansha no goku (imprisonment of the companions of Western studies). Bansha no goku was an oppression incident against the scholars of Dutch studies that took place in 1839. It resulted in arrests of widely known Dutch studies scholars such as Watanabe Kazan and Takano Choei. Nobuyuki describes in the letter how much of an uproar the arrest of these two had caused, and expresses his worries about Hakura Kando and Egawa Tarozaemon being suspected, who were close with his master, Tokugawa Nariaki.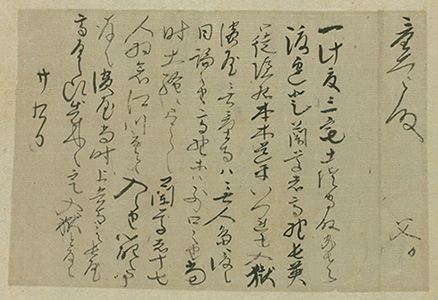 FUJITA Toko, 1806-1855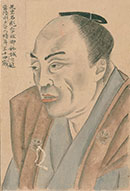 Toko was a feudal retainer and a Confucian scholar of the Mito Domain in the late Edo period, known for his contribution in supporting Tokugawa Nariaki in promoting reforms of domain politics. He was also known as a significantly influential figure for the sonno joi undo (lit. the movement to revere the Emperor and expel the barbarians).
13 Fujita Toko shokan (from Fujita Toko shokan), September 14, [1854][WA25-30]
A letter written by Toko and addressed to the fellow feudal retainers Aoyama Nobumitsu and Aizawa Seishisai, who was a Confucian scholar of the Mito Domain. The letter discusses the installment of the Mausoleum of Confucius and Kashima Jinja shrine in Kodokan, the domain school. Kodokan had opened provisionally in 1841, and the preparations for the formal open were being advanced at this time. Toko also discusses in the postscript the Anglo-Japanese agreement that was concluded in August 23. Things he mentions in the letter include the intention of the United Kingdom to declare war on Russia, and the arrangement had been set so that Japan needed to supply the necessities to British ships if they decided to enter the ports in Nagasaki or Hakodate.


Collection of Materials related to scholars of Mito
The National Diet Library holds numerous materials previously owned by scholars of the Mito Domain from the late Edo period. Especially, the collection of the letters previously owned by the Aoyama Family totals up to nearly 1,000 pieces, most of which are available for viewing in the NDL Digital Collections. Moreover, parts of the collection are reprinted in Kokuritsu Kokkai Toshokan Shozo Kichosho Kaidai, Vol. 14-15[UP72-2].