>Chapter 2: Signatures (2)

Chapter 2 Signatures (2)
NAGAI Kafu, 1879-1959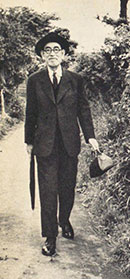 A novelist active from the Meiji to Showa eras. His real name was Nagai Sokichi. He published the first number of Mita bungaku while he was a professor at Keio University and published many novels, essays, and dramas from the viewpoint of the Aestheticism. His specialty was Edo-flavor style literary work from a unique standpoint distinguished from the style of that time. His representative work includes Amerika monogatari, Sumidagawa (The River Sumida), and Bokuto kitan (A strange tale from East of the River).
MORI Ogai, 1862-1922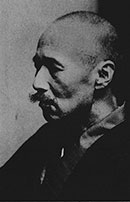 Being active as a novelist and translator while working as an army surgeon, Mori laid a foundation of modern Japanese literature. His real name was Mori Rintaro. His representative work includes novel translation Sokkyo shijin, novels Maihime (The dancing girl) and Gan (The wild goose), and historical novels Abe ichizoku (The Abe Family), Sansho dayu (Sansho the steward), and Takasebune (The Takase boat).
116 Meiji bungeika genkoryo uketorisho, [1913-1920][301-19]
A book which bound the receipts of royalties and manuscript fees exchanged between Momiyama Shoten (Momiyama Bookstore) and the author on publication of his books. The book also includes publishing contract documents between the bookstore and Shimazaki Toson as well as receipts from Takahama Kyoshi, Naito Meisetsu, Nagai Kafu, Mori Ogai, and Izumi Kyoka. These are valuable materials to study the publishing situation at that time since it is very rare for these kinds of documents to survive. The inserted material shows receipts of manuscript fees for Kafu's novel Chiru yanagi mado no yubae and Ogai's collection of drama translations Shin hitomakumono. The receipts show signatures of authors' real names, Nagai Sokichi and Mori Rintaro, along with their seals.
116 Related material: Books of Momiyama Shoten (Momiyama Bookstore)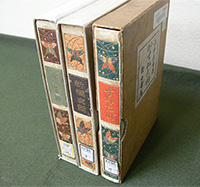 Momiyama Nizaburo, haiku poet, took over the business of Haishodo (publisher) from Takahama Kyoshi and then established Momiyama Shoten, from which he published a large number of good literature books. Among them, the books published from the end of the Meiji era to the early Taisho era were gorgeously bound with butterfly patterns by Hashiguchi Goyo. A total of 24 titles of novels by authors including Mori Ogai, Nagai Kafu, Izumi Kyoka, Tanizaki Jun'ichiro were published in the butterfly-patterned binding, gaining great popularity. Especially, Shinkyo yawa and Sumidagawa (The River Sumida) by Kafu became so popular that they went through several editions. Kafu, in close relationship with Momiyama, had most of his works published by Momiyama Shoten from 1911 to 1918.
ASHIHARA Kuniko, 1912-1997
An actress and star playing male roles in the Takarazuka Revue. Her husband was painter Nakahara Jun'ichi. After the war, she was actively involved in films and TV dramas mainly in the role of mother.
117 "Nankin bakugekitai" butai shashin, [1937][Hasegawa Kiyoshi Papers: 73]
A photo of a performance at the Tokyo Takarazuka Theater in November 1937. The photo has a signature by Ashihara on its front and on the back a message which says, "I pray for your continued luck in the war. We are also doing our best. To Commander-in-chief Hasegawa, The Third Fleet."
At that time, the Takarazuka Girls' Revue Company held performances on subjects provided by the Japanese Navy. The photograph on display shows a scene of a performance of one of the plays. The play was based on a long-range bombing in the Second Shanghai Jihen (Shanghai Incident) in August of the same year (1937) where Hasegawa Kiyoshi was on duty as Commander-in-chief of the Third Fleet. According to the story line, the role Ashihara played was the man who made the bombing a success.
HANABUSA Yoshimoto , 1842-1917
A diplomat in the Meiji era. After learning at Tekijuku, the school established by Ogata Koan, he traveled abroad and became a general official for the Foreign Ministry in 1869. He contributed as Minister to the diplomacy with Qing, Korea, and Russia and later successively assumed governmental and official posts including Undersecretary of the Ministry of Agriculture and Commerce, Undersecretary of the Department of the Imperial Household, Privy Councilor, and President of the Japanese Red Cross Society.
118 Hanabusa Yoshimoto meishiban shashin, [1874][Enomoto Takeaki Papers: 18-1]
Carte de visite addressed to Enomoto Takeaki, photographed in St. Petersburg. The text "Ch Bergamasco" at the bottom indicates that the picture was possibly taken at the photo studio of Italian-origin photographer Charles Bergamasco.

Carte de visite
In the 19th century, the trading of visiting–card-sized portrait photographs became a great fad throughout Europe and the Americas. These photographs were pasted on thick paper and were eagerly traded by people, who often had carte de visite featuring their own portrait taken by professional photographers. A market soon developed for carte de visite of well-known people, and a collections featuring portraits both of ones friends and of prominent people became a status symbol that allowed the middle class to feel that they had attained a higher social status. When trading carte de visite, people often added their signatures or included some other souvenir.
The collection of Modern Japanese Political History Materials Room includes examples of individual carte de visite as well as of the albums used to collect them. The photographs include those taken during trips to foreign countries as well as at studios in Yokohama or Tokyo. These photographs provides visual evidence of the introduction of western customs to Japan.
KONOE Atsumaro, 1863-1904
A politician in the Meiji era. Father of Konoe Fumimaro and Hidemaro. After studying in Germany, he played an active role as a member of the House of Peers. He successively assumed the important posts of President of Gakushuin, President of the House of Peers, and Privy Councillor. Forming Toa Dobunkai and Tairo Doshikai, he is also known for having insisted on Asianism and hard-line diplomacy toward Russia.
119 Konoe Atsumaro meishiban shashin, [1886][Shinagawa Yajiro Papers: 1758]
Carte de visite addressed to Shinagawa Yajiro, photographed in Bonne in 1886 while he was studying in Europe. Shinagawa was the Minister Plenipotentiary to Germany at that time. The inserted material shows the photo studio's name Fritz Meyche with its details unknown.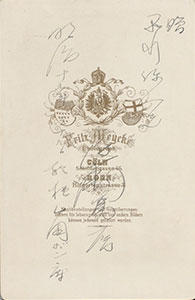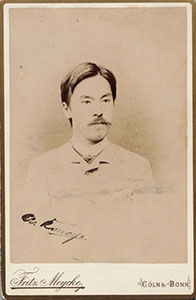 : See Materials 48.
120 Katsu Kaishu meishiban shashin, [1870][Enomoto Takeaki Papers: 17-12]
Carte de visite addressed to Enomoto Takeaki with a comment "Sincerely, to Enomoto Takeaki from Katsu Yasuyoshi (Katsu's real name)" on the back. The mount indicates that the photo was presumably taken at Uchida Kuichi's photo studio. Uchida is a famous photographer who had taken photos of the Emperor Meiji in Western-style military uniform (later called imperial portraits).
: See Materials 53.
121 Kuroda Kiyotaka meishiban shashin, [1874][Enomoto Takeaki Papers: 17-15]
Carte de visite addressed to Enomoto Takeaki with a comment "Sincerely, to Enomoto Takeaki from Kuroda Kiyotaka, July 1874" on the back, photographed at Shimizu Tokoku's photo studio. Shimizu was a painter of the Kano School who helped Philipp Franz Balthasar von Siebold sketch plants when he re-visited Japan. At that time Siebold gave him a camera which triggered him to open a photo studio in 1872.