HOME > Taisho Democracy > c. The Era of Party based Government > Formation of the HAMAGUCHI Cabinet

3-16 Formation of the HAMAGUCHI Cabinet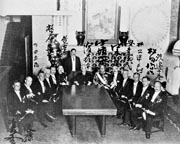 Ministers of HAMAGUCHI Cabinet, 2 July 1929 (Showa 4) From "Mede Miru Gikai Seiji 100nenshi"
Prime Minister TANAKA Giichi was reprimanded by the Emperor over his dealings with Chinese warlord Zhang Zuolin's (Chang Tso-lin's) assassination by adventurist officers of the Japanese Kwangtung Army, stationed in Manchuria, who had blown up the train he was riding. The Prime Minister, therefore made up his mind to submit his resignation. On 2 July 1929 (Showa 4), the TANAKA Cabinet resigned en masse. At 1:00 p.m. on the same day, the leader of the Rikken Minseito, HAMAGUCHI Osachi was granted sanction to form a cabinet. HAMAGUCHI was able to fill all the Cabinet posts in just five hours. The Showa Emperor is said to have expressed satisfaction at the appointment of SHIDEHARA Kijuro and INOUE Junnosuke as Cabinet members, both of whom represented the major policies of the previous Cabinet, namely, conciliatory foreign policy and fiscal restraint.
The new HAMAGUCHI Cabinet's first few months were uneventful. Yet, Japan began to feel the direct impact of the global depression that had started in 1929 with the crash on Wall Street, an impact intensified by the lifting of restrictions on gold exports out of Japan in January 1930 (Showa 5). Before long, the so-called Showa Depression took root, and disrupted the Cabinet's major policy plans.
Diary of HAMAGUCHI Osachi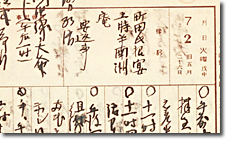 2 July 1929 (Showa 4)
Papers of HAMAGUCHI Osachi, #2
National Diet Library