HOME > Taisho Democracy > c. The Era of Party based Government > Emergence and Growth of Proletarian Political Parties

3-15 Emergence and Growth of Proletarian Political Parties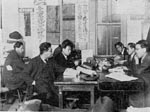 Planning the convention of the Rodo Nominto (Labor-Farmer Party), December 1926 (Taisho 15). From "Miwa Soju no Shogai"
Japan's first election under universal manhood suffrage saw, the proletarian movement coalesce into several political parties. A conflict, however, split the movement into the right and left wings. The Rodo Nominto (Labor-Farmer Party), or the Ronoto for short, had been formed in March 1926 (Taisho 15) and it split into the rightist Shakai Minshuto (Socialist People's Party) found in December 1926, and those who remained in the Ronoto. The centrist Nihon Ronoto, which was formed at that time and led by ASO Hisashi, aimed at keeping its arms' length from both the leftists and rightists.
In the general election of 1928 (Showa 3), the proletarian political parties gained a total of eight seats, with the rightist Shakai Minshuto getting four, the leftist Rodo Nominto two, and the centrist Nihon Ronoto and another party one each.
Measure and Report of the Japan Ronoto Party Headquarters, Presented at Its First National Convention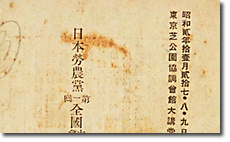 27 November 1927 (Showa 2)
Papers of ASANUMA Inejiro, #1
National Diet Library