HOME > Evolution of the Meiji State > d. Foreign Relations in the Meiji Era > Japan's Annexation of Korea

2-27 Japan's Annexation of Korea

ITO Hirobumi, Governor-General of Korea just before the assassination at Harupin Station Papers of SHICHIJO Kiyomi, #76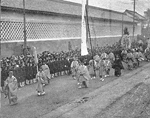 State funeral for ITO Hirobumi in the vicinity of Kasumigaseki 1909 (Meiji 42) From "Ko Ito Koshaku Kokuso Shashincho"
Beginning with the signing of the Korean-Japanese Protocol in 23 February 1904 (Meiji 37), several agreements gave Japan the right to station its troops on the Korean peninsula, and to gradually strip of Korea's rights to carry out an independent diplomacy. On 22 August 1910 (Meiji 43), the Japan-Korea Annexation Treaty was signed, and Japan annexed Korea.
The Treaty was signed based on the Memorandum, believed to have been drawn up by Prime Minister KATSURA Taro, at the Cabinet meeting dated 3 June 1910 (Meiji 43).
KATSURA Taro Memorandum