HOME > Reconstruction of Japan > d. Shift in Occupation Policies and Recovery of Independence > Peace Treaty and the U.S.-Japan Security Treaty

5-14 Peace Treaty and the U.S.-Japan Security Treaty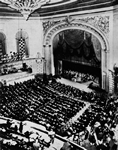 Full scene of the opening ceremony of the Japan Peace Treaty Conference, held in the San Francisco Opera House, September 4, 1951 (Showa 26). From "Yoshida Naikaku"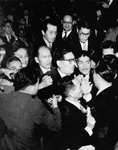 8th Extraordinary Convention of the Japan Socialist Party, October 23, 1951 (Showa 26). From "Nihon Shakaitoshi"
In September 1951 (Showa 26), the Peace Treaty Conference was held in San Francisco, leading to the 8 September signing of the Treaty of Peace with Japan. At the same time, Japan and the United States concluded the U.S.-Japan Security Treaty.
An extraordinary session of the Diet was opened on 10 October 1951 (Showa 26) to ratify both treaties. The Japan Socialist Party, however, found itself rent by intense internal division, with the leftist faction opposing both treaties, and the rightist and centrist factions supporting the Peace Treaty while opposing the Security Treaty. Secretary General ASANUMA Inejiro, a centrist, advocated the importance of securing unity within party ranks so as to counter the conservative forces. Still, at an extraordinary convention of the party that began on 23 October the Socialists failed to achieve unanimity concerning the two treaties, and ended up splitting into rightist and leftist camps.
Meanwhile, both treaties were successfully ratified by the Diet, and came into force on 28 April 1952 (Showa 27). The Occupation by the Allied nations thus ended, restoring Japan's independence.
The Decision on the Stance to Take toward Both the Peace and Security Treaties
October 1951 (Showa 26)
Papers of ASANUMA Inejiro, #2325
National Diet Library