HOME > Reconstruction of Japan > d. Shift in Occupation Policies and Recovery of Independence > The Red Purge

5-12 The Red Purge

Students pouring into University of Tokyo campus, site of the "General Indignation Meeting Condemning the Red Purge," October 5, 1950 (Showa 25) From "Showa Niman'nichi no Zen Kiroku Vol.9"
As the Cold War intensified, GHQ gradually become more anti-communist in nature, and on 6 June 1950 (Showa 25), a directive from General MACARTHUR orderd Prime Minister YOSHIDA Shigeru to purge all top Communist Party officials from public office. Some twenty four members of the Communist Party Central Committee were cited as a force hindering Japan's democratization, the avowed purpose of the Occupation, and their purge from public office was ordered on the basis of both "Abolition of Certain Political Parties, Associations, Societies, and Other Groups" (SCAPIN548), and "Removal and Exclusion of Undesirable Personnel from Public Office" (SCAPIN550).
A copy of General MACARTHUR's directive appeared the same day in Vol. 58 of Kanpo (Official Gazette), along with a Japanese translation. Thereafter, the Red Purge's reach spread throughout the public and private sectors.
[Douglas MacArthur's Letter to Prime Minister]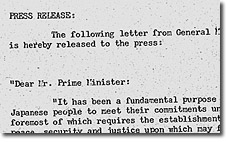 6 June 1950
<Sheet No. GS(B) 01751>
National Diet Library
U.S. National Archives (RG331)
Microfiche