HOME > Reconstruction of Japan > c. The GHQ and Postwar Reform > Formation of the Socialist Party Cabinet

5-9 Formation of the Socialist Party Cabinet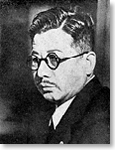 KATAYAMA Tetsu. From "Gaho Kindai 100nenshi Vol.18"
In order to form the first National Diet before the 3 May 1947 (Showa 22) promulgation of the new Constitution, election for the first House of Councillors was held, and an election for the House of Representatives was held on 25 April in which no party secured a majority. KATAYAMA Tetsu, Chairman of the Japan Socialist Party that had won the most seats, then formed a coalition cabinet with the Democratic Party and the People's cooperative Party.
After the election, having resolved to hand over the reins of government, Prime Minister YOSHIDA wrote a letter to his father-in-law, MAKINO Nobuaki, informing him that he would resign graciously so as to ease matters for the Japan Socialist Party.
Meanwhile, MACARTHUR welcomed the inauguration of the Christian KATAYAMA as Prime Minister, and issued a supportive proclamation saying that the creation of KATAYAMA Cabinet would reinforce middle-of-the-road domestic politics in Japan.
Letter of YOSHIDA Shigeru to MAKINO Nobuaki
3 May [1947 (Showa 22)]
Papers of MAKINO Nobuaki, Letter #659-54
National Diet Library
[General MacArthur's Statement]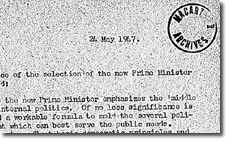 24 May 1947
MACARTHUR Papers, Collections of Speeches, etc. <MMA-10 R1>
National Diet Library
MACARTHUR Memorial Museum (Norfolk, Virginia)
Microfilm