HOME > Reconstruction of Japan > a. End of the War and Allied Occupation > The Occupation and the Beginning of Reform

5-3 The Occupation and the Beginning of Reform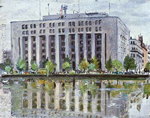 Daichi Seimei Billding where the GHQ settled. From "Mede Miru Gikai Seiji 100nenshi"
Japan was, with the war's end, placed under the occupation of the Allied Powers, and a reform process of demilitarization and democratization was put into action. The work of drawing up the policies for the governance of the Occupation, however, had already begun in earnest before the war's end.
The document "U.S. Initial Post-Surrender Policy for Japan," describes the various premises of the Occupation policy, including indirect rule and the preservation of the Imperial institution, while also touching upon the course of the reforms to be made, including Japan's disarmament, the removal of restrictions on political, civil, and religious liberties, and the release of political prisoners. These were initially drawn up by the U.S. State Department in April 1945 (Showa 20), immediately before the invasion of the Japanese mainland was to have taken place.
The original draft of the proposal as formulated by the U.S. State Department then went to the Subcommittee for the Far East (SFE) of the State-War-Navy Coordinating Committee (SWNCC) for deliberation, and was submitted to the SWNCC as a whole on 11 June. With the announcement of the Potsdam Declaration at the end of July 1945, the clause about direct military rule was modified, and other modifications were made by the U.S. War Ministry's Joint Chiefs of Staff. The proposal was finally approved at a meeting of the SWNCC on 31 August and signed by President Harry TRUMAN on 6 September 1945. Later, on 22 September the U.S. State Department announced the "U.S. Initial Post-Surrender Policy for Japan" (SWNCC150/4/A), and it was reported in Japanese newspapers on 24 September.
In addition, on 4 October 1945, GHQ (General Headquarters, Supreme Commander for the Allied Powers) sent the Japanese Government "Removal of Restrictions on Political, Civil, and Religious Liberties" (SCAPIN-93) directive, the so-called "humanrights directive", which stipulated among others, allowing free discussions about the Imperial system, repealing fifteen existing laws, including the Peace Preservation Law and the Thought Control Law (Ideological Prisoner Custody and Surveillance Law), and releasing all political prisoners.
U.S. Initial Post-Surrender Policy for Japan (SWNCC150/4/A)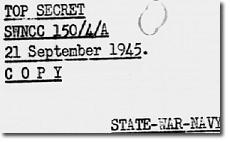 21 September 1945
GHQ/SCAP Records; Top Secret Records of Various Sections.Administrative Division; Box No. LS-1: "Top Secret, File No. 1 - Covering the Period from 1 September 1945 thru 19 January 1946" <Sheet No. TS00322>
National Diet Library
U.S. National Archives (RG331)
Microfiche
Memorandum for: Imperial Japanese Government. Through: Central Liaison Office, Tokyo. Subject: Removal of Restrictions on Political, Civil, and Religious Liberties.(SCAPIN-93)
4 October 1945
Supreme Commander for the Allied Powers Directives to the Japanese Government (SCAPINs) <SCA-1 Roll No. 2>
National Diet Library
U.S. National Archives (RG331)
Microfilm