HOME > Taisho Democracy > c. The Era of Party based Government > Shooting of Prime Minister HAMAGUCHI Osachi

3-18 Shooting of Prime Minister HAMAGUCHI Osachi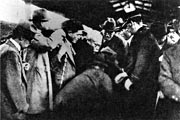 Prime Minister HAMAGUCHI injured 14 November 1930 (Showa 5). From "Teikokushugi to Minponshugi"
Though the HAMAGUCHI Cabinet successfully managed to get the Privy Council to deliberate on and approve the London Naval Treaty, a young right winger named SAGOYA Tomeo, who was enraged over the alleged usurpation of the Emperor's prerogative of supreme command, shot HAMAGUCHI on 14 November 1930 (Showa 5). The Prime Minister survived the shooting but was wounded seriously, so the Cabinet participated in the 59th session sans HAMAGUCHI, with Foreign Minister SHIDEHARA Kijuro chosen as acting Prime Minister. The Seiyukai, however, condemned the Government on the grounds that Prime Minister HAMAGUCHI was absent from Diet proceedings and that SHIDEHARA was not in fact a party member.
Amid those developments, SHIDEHARA made a faux pas by seeming to assign some of the blame for the London Naval Treaty uproar on the Emperor, aggravating the weakness of his position in the Diet. Once the storm over SHIDEHARA's verbal blunder dissipated, however, the failure of Prime Minister HAMAGUCHI to appear in the Diet resurfaced as a political problem. The Seiyukai strenuously demanded his attendance, refusing to participate in budget deliberations until he did so (the budget was later approved). In the end, HAMAGUCHI, taking a serious view of the situation, actually did show up in the Diet despite his declining condition.
The diary of House of Representatives Chied Secretary OKI records a heated exchange between the Prime Minister and HATOYAMA Ichiro during a question-and-answer session. HAMAGUCHI eventually resigned his post on 14 April 1931 (Showa 6) owing to worsening health, leading to the creation of the 2nd WAKATSUKI Reijiro Cabinet. Four months later, on 26 August, the former Prime Minister died from his bullet wounds at age 62.
Daily Log of the 59th Diet Proceedings