HOME > Taisho Democracy > b. The First World War and Japan > Rice Riots (Kome Sodo)

3-6 Rice Riots (Kome Sodo)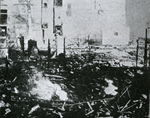 Burnt-out remains of Suzuki Store in Kobe, August 12, 1918 (Taisho 7) From "Gaho Kindai 100nen Shi. Vol.4"
Landlords and rice merchants anticipating the dispatch of troops to Siberia began rice speculation, causing prices to skyrocket. This squeezed the people's livelihoods, and Rice Riots (Kome Sodo) broke out in Toyama in July 1918 (Taisho 7), and spread quickly among communities along the coast ringing Toyama Bay. When newspapers gave national exposure to the Toyama riots the following month, similar riots rapidly erupted around the country.
DEN Kenjiro, Communications Minister in the TERAUCHI Cabinet, he wrote in his Diary that a "Rice Riot" had broken out in Kobe on 12 August, and that the Suzuki Cooperation and the Kobe Shinbun company headquarters were set ablaze. The Diary also records the conference between Prime Minister TERAUCHI and DEN who, alarmed by the situation discussed countermeasures. The Cabinet as a whole was greatly shocked by the Rice Riots, and TERAUCHI, who had been hinting at quitting ever since spring 1918 because of ill-health, resigned on 21 September after the riots finally died down.
1918 (Taisho 7) Diary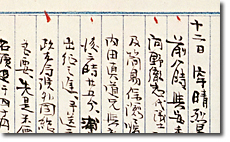 13 August 1918 (Taisho 7)
Papers of DEN Kenjiro, #24
National Diet Library