HOME > Taisho Democracy > b. The First World War and Japan > World War Ⅰ and Japan

3-4 World War Ⅰ and Japan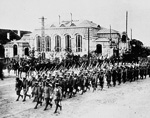 Japanese troops entering the city walls of German-controlled Tsingtao (Qingdao), China, November 1914 (Taisho 3) From "Sekai Taisen Shashincho"
The foreign policy of the 2nd OKUMA Cabinet was guided by Foreign Minister KATO Takaaki, who tried to eliminate the interference of the Genro as much as possible. On the other hand, the Genro YAMAGATA Aritomo, INOUE Kaoru and others were strongly dissatisfied with KATO's excessive valuation Anglo-Japanese Alliance. They preferred a more balanced approach that emphasized as well Japan's relations with other foreign powers. Both sides shared the view that the World War Ⅰ represented a golden opportunity for Japan, but they were miles apart as to the country's basic foreign policy and how to proceed. Given this, the four Genro, YAMAGATA, INOUE, OYAMA Iwao, and MATSUKATA Masayoshi, conferred with Prime Minister OKUMA to try to restrain Foreign Minister KATO.
This document is the original draft of the memorandum that INOUE seems to have had his private secretary, MOCHIZUKI Kotaro, write of that meeting, and it plainly demonstrates the desire to put the Genro back in control of foreign policy.
Account of Prime Minister OKUMA's Meeting with Four Genro
24 September 1914 (Taisho 3)
Papers of MOCHIZUKI Kotaro, #71
National Diet Library