HOME > Taisho Democracy > a. Political Upheavals in the Taisho Era > Formation of the 2nd OKUMA Shigenobu Cabinet

3-3 Formation of the 2nd OKUMA Shigenobu Cabinet

Reshuffled OKUMA Cabinet From "Ningen Okuma Shigenobu"
The creation of the 2nd OKUMA Cabinet on 16 April 1914 (Taisho 3), was the result of a tangled web of calculations on the part of the Genro and political parties, but the Genro INOUE Kaoru, who died the following year, is said to have had a great effect on its formation. This document contains the handwritten notes of MOCHIZUKI Kotaro, INOUE's private secretary, that were written during INOUE's meeting with OKUMA shortly before the formation of the 2nd OKUMA Cabinet.
At that meeting, INOUE argued for readjusting policies on fiscal matters, diplomacy, and national defense, and the elimination of abuses by political parties. All these demands represented a negation of the policies of the Kei-en (KATSURA/SAIONJI) era, which had included aggressive fiscal policies, expansion of the Army and Navy, and the aggrandizement of privileges by Seiyukai members.
Account Summarizing the Meeting between Marquis INOUE and Count OKUMA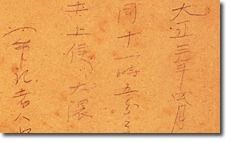 10 April 1914 (Taisho 3)
Papers of MOCHIZUKI Kotaro, #38
National Diet Library