HOME > Evolution of the Meiji State > a. Drafting the Meiji Constitution > Birth of the Cabinet System

2-6 Birth of the Cabinet System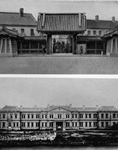 Government buildings for Grand Council of State (Dajokan) and Cabinet From "Kensei Hiroku: Meiji, Taisho, Showa"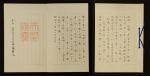 Imperial edict inaugurating the cabinet system, December 23, 1885 (Meiji 18) Collection of the National Arcives of Japan
Under the Grand Council of State (Dajokan) system, the authority of the respective officials - dajo daijin (Chancellor or Great Minister of State), sadaijin (Minister of the Left), udaijin (Minister of the Right), sangi (Councilors), and the kyo (or Ministers) of the various ministries - was unclear, rendering that organization rather inefficient. Moreover, there was a wide discrepancy between those holding titular authority and those who actually wielded power, making it difficult to carry out the establishment of the Parliament. On 22 December 1885 (Meiji 18), the Grand Council of State System was replaced by the Cabinet System, with the issuance of the Authority of the Cabinet edict specifying the Prime Minister's authority. It paved the way to the development of a distinction or separation between the Imperial Court and Government. While the Prime Minister had been granted Powers under the Authority of the Cabinet Edict, the Cabinet Official System Edict was later issued in December 1889 (Meiji 22), specifying the authority of individual Cabinet members to match the description in the Imperial Constitution, to wit, their duty to serve in an advisory role to the Emperor.
This document is the draft of the Authority of the Cabinet Edict. On the same day it was promulgated in late 1885 (Meiji 18), installation ceremonies were held for the Cabinet members, all of whom came from the Satsuma and Choshu domains.
Authority of the Cabinet Edict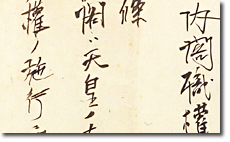 Circa end of 1885 (Meiji 18)
Papers of MAKINO Nobuaki, Document #c101
National Diet Library