HOME > Evolution of the Meiji State > a. Drafting the Meiji Constitution > Imperial Rescript Establishing a Constitutional Form of Government

2-1 Imperial Rescript Establishing a Constitutional Form of Government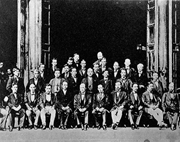 Commemorative photograph of (1st) prefecutural governor's council representatives, 1875 (Meiji 8) From "Mede Miru Gikai Seiji 100nenshi"
At the Osaka Conference held from January to February 1875 (Meiji 8), it was decided to restore KIDO Takayoshi and ITAGAKI Taisuke to their posts as Councilors (sangi), following which the Imperial Rescript Establishing a Constitutional Form of Government was issued, spelling out the national policy to create a constitutional political system in Japan. It also prescribed the establishment of the Chamber of Elders (Genroin), Daishin'in (Supreme Court), and prefectural governors' council.
This document is the draft proposal for that Rescript; its wording differs very little from the official text. Together with the five-article Charter Oath, the rescript is known to have provided authentication for the People's Rights Movement, that had been demanding the establishment of a national parliament.
Imperial Rescript Establishing a Constitutional Form of Government