The term "incunabula" was first used by Bernhard von Mallinckrodt (1591-1664), a German philologist. In his book De ortu ac progressu artis typographicae dissertatio historica, published in Cologne, 1640, to commemorate the 200th anniversary of the invention of printing, he called the period of printing prior to the "annus saecularis 1500" (year of century, 1500) "prima typographicae incunabula." C. van Beughem's Incunabula typographiae, published by J. Wolters in Amsterdam, 1688, is the first catalogue of incunabula that uses the term and includes about 3,000 titles of incunabula.
In the 18th century, M. Maittaire (1668-1747), M. Denis (1729-1800), G.W.F. Panzer (1729-1805) and other philologists published catalogues in which they arranged printed materials in the order of year of publication, and these catalogues included some 16,000 titles of incunabula. In 1722, P. Orlandi (1660-1727) published Origine e progressi della stampa in which he discussed the history of early printing from the viewpoints of techniques, craftsmen, paper and type.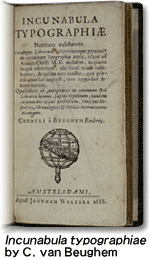 The starting point of today's incunabula studies is, however, Repertorium bibliographicum by L. Hain (1781-1836). Together with its revised and enlarged editions by W. Copinger (1847-1910) and D. Reichling (b.1845), this includes some 20,000 titles of incunabula, providing a basic incunabula identification tool. For many of the incunabula included in Repertorium bibliographicum, however, it is stated that the place and year of printing and the name of printer are unknown. Later, in the 19th century, it was recognized chiefly among British researchers that in order to identify the printer, it was necessary to compare the types used. For more information on this aspect, please see Column: History of Incunabula Studies.
In the early 20th century, publication of the union catalogue Gesamtkatalog der Wiegendrucke (GW) was initiated to provide a full picture of incunabula, but so far, only about one-third of the catalogue has been published. In addition to this magnificent attempt, various countries have issued union catalogues of the incunabula in their country's possession, and various libraries that own many incunabula have also issued their own incunabula catalogues. Prominent examples include the Indice generale degli incunaboli delle biblioteche d'Italia (IGI) in Italy, the Incunabula in American libraries (Goff) in the United States, the Catalogue of books printed in the XVth century now in the British Museum (BMC) by the British Museum (now British Library) and the Catalogue général des incunables des bibliothèques de France (Pellechet) in France. Union catalogues of incunabula were published in Poland (1970), the Netherlands (1983) and Spain (1991), and one was also published in Japan in 1995. Today, the Incunabula Short-Title Catalogue (ISTC), a database recording 27,500 titles of incunabula, and the Illustrated Incunabula Short-Title Catalogue (IISTC), a CD-ROM version of the ISTC, present an overall picture.
Meanwhile, bibliographical studies of incunabula and studies of incunabula from the viewpoint of the history of books are progressing. With respect to the physical aspects of incunabula, non-destructive analysis is being carried out through irradiation. Other methods of analysis include using β-rays to accurately record watermarks in the paper; analyzing the components of paper using particle-induced X-ray emission (PIXE); and analyzing the elements of ink using synchrotron radiation. Due to the development of digital technology, the text of incunabula has been converted into digital form, enabling researchers to use digitized text to examine and compare it with others to investigate variations of type fonts and stop-press variants. This has made it possible to compare incunabula on a copy-by-copy basis.