Section 2: Fashion
There are many who immediately think of fashion, when France is mentioned. Paris in particular features a number of famous clothing brands, holds the Paris Fashion Week and is known as the fashion capital where the newest trends are decided. It was the time of Louis XIV that France and fashion became so intertwined. Under the absolute monarchy, a gorgeous and flamboyant court culture flourished, and the fashions of France's royal court spread throughout Europe. In addition, the development of cloth, lace and other textile industries were another factor which lead to France becoming one of Europe's leading garment producing countries. From that point on until today, French fashion continues to be adored by many people the world over.
France fashion influenced Japan from the very beginning of the adoption of Western clothing. Aiming to become a modern nation, the government actively adopted Western systems such as military, police and postal systems, and western clothing was used for the uniforms in these new systems. Among these new uniforms, court dress, ceremonial uniforms and army uniforms in particular utilized French designs.
The establishment of
taireifuku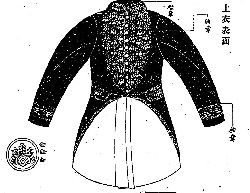 Taireifuku oyobi tsūjōreifuku o sadame ikan o saifuku tonashi hitatare kariginu jōge tō o haisu (Hōrei zensho, Naikaku kampōkyoku, 1872 [CZ-4-1] )
The taireifuku (court dress, full-dress uniform) established on November 12, 1872.
Taireifuku refers to formal clothing which is worn mainly at Imperial Court ceremonies and other formal occasions from the Meiji Era onward.
The ancient traditional Japanese court dress was to be discontinued and new Western-style taireifuku (court dress, full-dress uniform) established. On January 1, 1872, GOTO Shojiro (1838-1897), the head of the Sain (Advisory Board on Legislation), issued a request to MIYAJIMA Seiichiro (1838-1911) who then played a central role in carrying out studies aimed at the establishment of a Western taireifuku system. MIYAJIMA 's report Taireifuku Shinsei Torishirabesho states, "I have investigated the circumstances in France of the formal uniforms created by Napoléon I becoming the standard in the various countries of Europe as reference for the creation of new taireifuku", showing that France's dress regulations were referenced. MIYAJIMA carried out studies with counsel from hired foreigner Albert Charles Du Bousquet (1837-1882) and presented the patterns for the completed uniform regulations to GOTO on February 23.
On March 24 of the same year, OKUBO Toshimichi (1830-1878) and ITO Hirobumi (1841-1909) of the Iwakura Mission temporarily returned to Japan during their travels overseas. When they returned to the United States on May 17, MIYAJIMA gave a copy of the uniform regulation patterns to OKUBO. Thereafter, on July 14, when the Mission arrived in Britain, a study was carried out for the production of the taireifuku based on the patterns created by MIYAJIMA. As a result, it was reported to the government that some alterations were made to MIYAJIMA's patterns modelled on French uniforms.
"The Western-style patterns received from the government were compared to standard formal dress in Western countries, and it was found that there were some differences in the methods of production, so the patterns were altered based on French uniforms." (Taishi Koshin No. 15, sent from London on August 22, 1872)
On November 5, the Iwakura Mission wore the newly completed taireifuku for an audience with Queen Victoria. Within Japan, 7 days later on the 12th, the Dajokan fukoku (proclamation by the Grand Council of State) "Abolishment of the Use of Ikan (informal court dress) and Hitatare (formal court dress) Tops and Bottoms for the Establishment of taireifuku (court dress, full-dress uniform) and Tsujo Reifuku (formal dress)" was declared. However, this proclamation did not reflect that the Iwakura Mission had applied "alterations modelled on French uniforms" resulting in the taireifuku of the mission and the taireifuku worn within Japan being different which caused problems after the mission's return to Japan. This happening was typical during this period of rushed Westernization.
The beginnings of women's use of Western clothing
Western clothing for women began to be introduced from around 1877 to around 1887 as a result of the Europeanism policy. Having been constructed in 1883 by the government to promote the Europeanism policy, balls were held at the Rokumeikan (lit. Deer Cry Pavilion)

where the wives of high ranking officials and nobles gathered in Western clothing.
Thereafter, on June 23, 1886, the following 4 categories were established for women's clothing within the Imperial Court in a private notice of the Imperial Household Minister
.
Taireifuku Manteau-de-cour

for New Year's Ceremonies

Chureifuku Robe décolleté

for evening meals, etc.

Shoreifuku Robe mi-décolletée

also for evening meals, etc.

Tsujoreifuku Robe montante

for daytime meals in the court in dresses with long trains, etc.
The French terms were used together with Japanese explanations for each type of outfit, showing that the dress code was modelled on that of France. The "cour" in "manteaux-de-cour" meant "court", as in the Imperial Court, and was court clothing worn during the Bourbon Dynasty. These were sleeveless dresses or dresses with short sleeves with a train attached. The train length and number of train-bearers were determined based on the woman's height. Robe décolleté and robe mi-décolletée mean "clothing with wide-necks". The basic form is the same as manteau-de-cour, but no train is attached. Robe montante had a stiff collar and a train.
On January 20, 1887 the next year, the Empress wrote a letter of intent recommending Western clothing, stating, "Wearing domestic produced clothing whenever possible makes a statement. If domestic produced clothing is worn, it will lead to improvements in production and progress in art, and also lead to more profit in trade", appealing for the use of domestically produced Western-style clothing.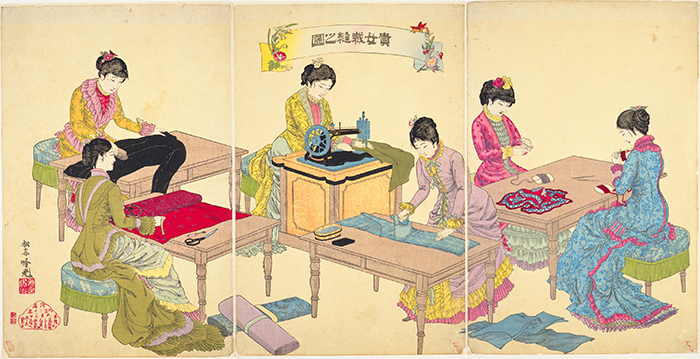 Kijo saihō no zu [寄別2-9-2-1]

Women wearing Western clothing making Western clothing. A sewing machine is pictured.
Women's fascination with French fashion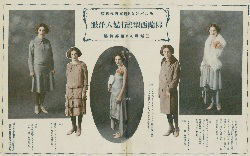 Furansu gata ryūkō fujin yōfuku (Mitsukoshi, 19(2), 1929.2 [雑23-23イ]

)
French designer and model Berthe Morvan-Remont (1898-?) was invited by Mitsukoshi Department Store.
An article in the Asahi Shinbun (Osaka) newspaper on June 22, 1888 stated, "several years ago Japan's women and young women began imitating the trends of Paris in everything, including clothing, and felt pressured to not fall behind the current fashions, soon become frenzied and wanting to change their very person to be more of a Paris style", showing that there was a strong enthusiasm for Paris within Japan.
KAWAKAMI Otojiro (1864-1911) and wife Sadayakko (1871-1946) travelled to France in 1900 to perform at the Paris exposition, and in 1907 to inspect theatres and to study at an actress training school. After returning to Japan, the two introduced Paris fashions in magazines and other venues. In Paris no zeitaku kurabe (Paris Luxury Comparison) (Ryūkō, 1908-07, [雑50-3イ]), Sadayakko writes of her surprise at the mannequins (fashion models) seen in a dressmaker's, "the sample was a living beauty", "the sample was an beautiful employee". Models began with the originator of haute couture Charles Frederick Worth (1825-1895) having his wife Marie (1825-?) wear his creations during the mid-19th century.
At the end of the Meiji Era, magazines began to be published which introduced fashion trends. The Miyako Shinbun newspaper supplement Miyako no Hana [Z8-1072] was first published as a magazine for reporting food, clothing and lifestyle trends. Fujin Gahō [Z6-31], which is still published today, reported on upper class fashion trends both in Japan and overseas. Ryūkō (Shirokiya Department Store), and the Mitsukoshi Times [雑23-23] (Mitsukoshi Department Store), which were both also published to serve as advertisements for department stores, and other magazines took on the role of reporting on fashion and trends.
Imitation of French fashion magazines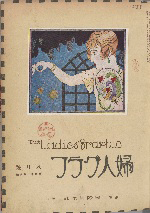 Fujin gurafu [雑51-38] 4(8) Couverture

In France, there was a practice of dressing life-sized dolls with clothing as a means of introducing fashions. In the latter half of the 18th century, fashion plates took on the role of introducing fashions and collections of fashion plates also began to be published. Thereafter, in the 19th century, magazines were born thanks to development of more advanced printing technologies, and fashion magazines (periodic publications which included fashion plates and were aimed at female readers) launched in quick succession. Even in Japan, in the Taisho Era, fashion magazines modelled on the magazines of France began to be published. The magazine Josei (1922-1928) [雑51-35] published by Platon Co., used pictures for the cover and frontispiece which imitated the illustrations of the French magazine Gazette du bon ton. The Fujin Gurafu (the Ladie's graphic) (1924-1928) [雑51-38] stated its objective of becoming like the overseas fashion magazines in the opening greetings of its first publication, and from the 2nd issue onward it directly imitated the format and cover design of the French magazine Art Gout Beauté. The title for the magazine Sōen (presently changed to So-en、1946-present) [Z6-530] was a Japanese translation of the title of the French magazine Jardin des Modes. In addition, a large number of Japanese editions of French magazines were also published after the war. The Japanese version of Elle was published as an・an Elle Japon (with the first publication of Elle Japon [Z23-455], from 1982 onward it became an・an, 1970-present) [Z24-206], the Japanese version of Marie Claire was published as Marie claire Japon (1982-present) [Z23-445], and the influence of French fashion magazines on Japan was significant.
French and Japanese cultural exchanges in fashion
In the clothing and accessory field, from the end of the Taisho Era to the beginning of the Showa era, SHIMAMURA Fusano (1905-1977), TANAKA Chiyo (1906-1999), SUGINO Yoshiko (1892-1978) and others studied in France and other countries overseas, and after returning to Japan were active as fashion designers and also focused on education, establishing dressmaking schools. In addition, in cosmetology, Marie Louise (AIHARA Mine 1875-1957), who studied French cosmetology, opened the beauty salon Pari-in and gave beauty treatments to the Imperial family and many other customers, established a beautician's school and worked diligently to popularize beauty treatments.
From the 1970's onward a number of Japanese designers made their Paris Fashion Week debuts, including TAKADA Kenzo (1939-present) in 1970, MIYAKE Issei (1938-present) in 1973, YAMAMOTO Kansai (prêt à porte, 1944-present) in 1975、 MORI Hanae (1926-present) in 1977, and KAWAKUBO Rei (1942-present) and YAMAMOTO Yoji (1943-present) in 1982. In addition a large number of French terms were incorporated into Japanese, including mannequin, haute couture, and prêt à porter. During Japan's bubble economy period, France's top brands became popular in Japan, with Chanel opening a directly managed shop in Ginza in 1994, and around 1997, the term "Chanellers" became popular to describe people who wore nothing but Chanel products from their clothing to all of their accessories. Louis Vuitton (1998), Hermès (2001) and many other brands also opened directly managed shops in Japan. However, more recently, the Gothic & Lolita (abbreviated as "GothLoli") fashion born in Harajuku and costume play (abbreviated as "Cosplay"), where people dress up as characters from Japanese animation, have become popular among youth in France. Mutual fashion exchanges between Japan and France still continue today.