Greetings
IIn March, 2013, the National Diet Library (NDL) concluded an agreement for cooperation with the Bibliothèque nationale de France (BnF) that establishes a comprehensive framework for cooperation in library activities, and has been implementing it step by step. It is now our great pleasure to launch a joint digital exhibition introducing items selected from among the valuable collections of both institutions, which reflect the long history of relations between France and Japan from the mid-19th century.
The NDL exhibition titled "Modern Japan and France - adoration, encounter and interaction" features materials from politics, industry, literature, art, lifestyles, and subcultures depicting the relationship that begin with the conclusion of the Treaty of Amity and Commerce between the two countries in 1858. Having just been added to the UNESCO World Cultural Heritage list this past June 2014, the Tomioka Silk Mill and Related Sites is not only the first example of Japan's modernization to be recognized in this way, but the many technologies imported from France during its construction and operation are also a prime example of the impact France had on Japan's modernization. It is well known that French culture, ranging from art to lifestyle, has fascinated so many people in Japan.
The BnF exhibition titled "France-Japan, an encounter, 1850-1914" will also give you a very good opportunity to enhance your appreciation of the course of relations between the two countries, and the tremendous influence that Japan and France had on each other.
I sincerely hope that this joint digital exhibition, which adds even more glitz and glamour to the 90th anniversary of foundation of the Maison franco-japonaise in 1924, will contribute to the further expanding and deepening of the Japan-France cultural exchanges in the future.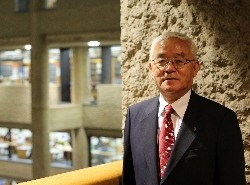 December 2014
Noritada Otaki
Librarian, National Diet Library

Bibliothèque nationale de France (BnF) "France-Japan, an encounter, 1850-1914"(French)