Hitoshi Ashida, "Diary of Hitoshi Ashida" (portions concerning revision of the Constitution, 1945 to 1946)
Hitoshi Ashida kept a journal from 1905 right up until just before he died in 1959, in it he chronicles his work in the Ministry of Foreign Affairs, his time in the House of Representatives, his postwar activities as a member of the Shidehara Cabinet and the Katayama Cabinet, and eventually as Prime Minister. The period from September 1944 to May 1959 is now open to the public.
Ashida worked as the chairman of the Committee on Bill for Revision of the Imperial Constitution, formed on June 28, 1946, in the House of Representatives. Following that, he was the chairman of the Constitution Popularization Society, where he worked to bring the new Constitution to the people of Japan. The portion of Ashida's journal from October 1945 until the enactment of the Constitution of Japan gives us details of the constitutional reform.
| | |
| --- | --- |
| Actual Title of Source | Nisshi[The portion of Ashida's Diary concerning the Revision of the Constitution] |
| Date | [October 1945 to May 1946] |
| Material Number | Ashida Hitoshi Papers, Document Section: 1 to 3 |
| Repository (reproduction) | |
| Repository | Deposit in the National Diet Library |
| Note | |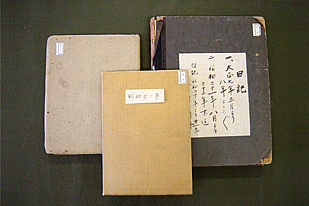 Contents
Note: The portion on November 3 is dated November 13 by mistake in the original.