Webinar "Libraries and UN SDGs: IFLA supporting the libraries to achieve the SDGs"
(This event has ended.)
In recent years, achieving the sustainable development goals (SDGs) have become one of the most important global issues. The National Diet Library will host a web lecture about libraries and the UN SDGs featuring Ms. Barbara Lison, president of the International Federation of Library Associations and Institutions (IFLA), an international body that represents the interests of libraries, information services, and their users. Ms. Lison has designated "Libraries building a sustainable future" as a major policy for her tenure and is actively promoting the SDGs for libraries and information services. In this lecture, she will talk about the IFLA's strategy, examples of initiatives taken by libraries in some countries, and international cooperation from the perspective of achieving the SDGs. We hope that her presentation will provide an opportunity to deepen understanding of libraries, their circumstances, and future library activities. We look forward to your participation.
*Pre-recorded video will be delivered for the lecture section. Q&A session will be streamed live with simultaneous interpretation in English and Japanese.
Speaker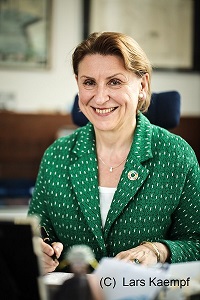 Ms. Barbara Lison, president of the International Federation of Library Associations and Institutions (IFLA)
IFLA president for 2021-2023 and director of the Bremen Public Library since 1992.
Ms. Lison studied Slavonic studies, history, and educational theory at Ruhr University Bochum. She held a number of senior posts, including president of the Bibliothek und Information Deutschland (BID, national umbrella organization of German library and information associations) from 2006 to 2010; vice-president of the European Bureau of Library, Information and Documentation Associations (EBLIDA) from 2006 to 2009 and again from 2015 to 2018; chair of the Deutscher Bibliotheksverband (DBV, German Library Association) from 2016 to 2019; and a member of the OCLC, Inc. Board of Trustees since 2012. She has also been actively involved in the IFLA as the member of the IFLA Governing Board from 2011 to 2021 and chair of the German IFLA National committee from 2012 to 2015.
Date and time
March 24, 2022 (Thu.), 16:00-17:20 (JST/UTC+0900)
Venue
Webex webinars
Capacity
Up to 1,000 participants
Admission fee
Free of charge
How to apply
Application was closed.
For enquiries
Branch Libraries and Cooperation Division
Administrative Department
National Diet Library
E-mail: lecture