Closed stacks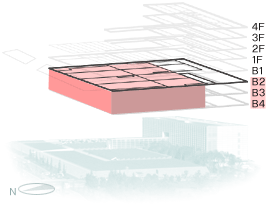 The stacks in the Kansai-kan are located in the 2nd, 3rd and 4th basements. The 2nd and 3rd basements are mainly fixed shelving stacks, and the 4th basement is mainly electric compact shelving stacks. A part of the 4th basement consists of electric rotary files for efficiently holding microfilmed documents. The automatic stacks are located in the well on the north area of the 3rd and 4th basements.
The National Diet Library is responsible for storing valuable materials permanently. Therefore, the temperature and humidity of the stacks are kept at 22 degrees C and 55%, which is the optimum for the storage of library materials.
< Electric Compact Shelving Stacks >
The photograph above shows the electric compact shelving stacks; these are stacks that can be moved using a button. They have twice the storage capacity of the fixed shelving stacks.

< Fixed Shelving Stacks >
Automatic stacks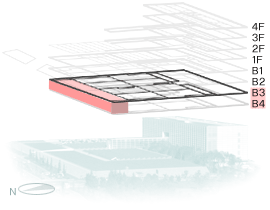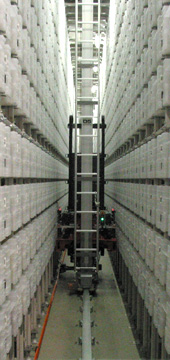 In the automatic stacks, materials are sorted mechanically. The stacks can hold approximately 1.4 million documents, one of the largest capacities in Japan. The storage capacity of the automatic stacks is about four times that of the fixed stacks.
The stack room contains about 28,000 semi-transparent containers, each of which can hold 50 volumes on average. The container which holds the item requested by the visitor is identified by means of computer.
Materials such as Japanese books that can be controlled using bar-coded labels are stored here.
Storage of negatives of microfilms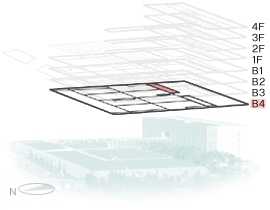 Microform documents (including microfilms) must be stored in a cool, dry place, so the temperature and humidity of this storage room (18 degrees C and 25%) are set lower than in the other stacks. Moreover, in order to prevent fluctuations of temperature and humidity, the room where the microfilms are stored is enclosed with heat-insulating, airtight panels and has a double entry door.