History of construction of the Kansai-kan
September 2002: Transfer of library materials completed.
Transfer of library materials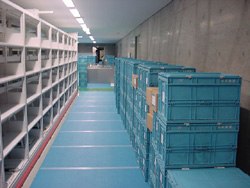 The number of volumes transferred from the Tokyo Main Library to the Kansai-kan for its opening totaled approximately 3,200,000, mainly periodicals in Western languages, Japanese books and periodicals, and doctoral dissertations. They were packed into approximately 150,000 cardboard boxes and folding containers for the transfer.
To undertake this enormous effort, the Headquarters for Library Materials Transfer to the Kansai-kan (headed by the Director General of the Kansai-kan) was set up and a special coordination system between the Tokyo Main Library and the Kansai-kan was established for the transfer operation.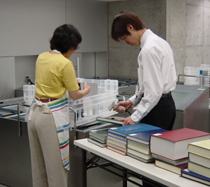 The number of professional workers involved in the transfer amounted to 11,100. The materials were transferred using both trucks and freight trains and, on almost every weekday, twelve 5-ton containers fully loaded with materials set off for the Kansai-kan.